Week highlights: new features in Krita, GEGL, MyPaint, and Inkscape, new major digiKam release, a week-long workshop in Amsterdam for Blender developers announced, a monthly update from Apertus project on their Axiom camera, official YouTube channel for Ardour available now.
Michael Natterer continued merging the code of GIMP plug-ins handling various resources (brushes, patterns etc.) into the core of the program. Meanwhile, Ell carried on working on the performance of painting tools, the Smudge tool in particular. Also, an experimental appimage of GIMP's GTK3-based version is now available thanks to Andrea Ferrero.
As for GIMP's engine, GEGL, Øyvind Kolås is hacking on the built-in graph editor like there is no tomorrow. Most recently he added a basic PDF loader (with support for password-protected files and going through pages), video playback controls, on-UI for rotation, and a scaffold UI for GEGL operations that take a radius parameter. He also reused code from GNOME Photos that boosts 90° rotation and flips for JPEG files embedded ICC profiles. Finally, he added a Preferences screen (Ctrl+p) that allows toggling mipmap support, OpenCL, and the use of display ICC profiles. Ell implemented an improved, more sophisticated cache policy to GEGL.
Wolthera van Hövell tot Westerflier contributed two user-visible improvements to Krita. Her first patch adds a rotation slider and a mirror button to the Overview docker: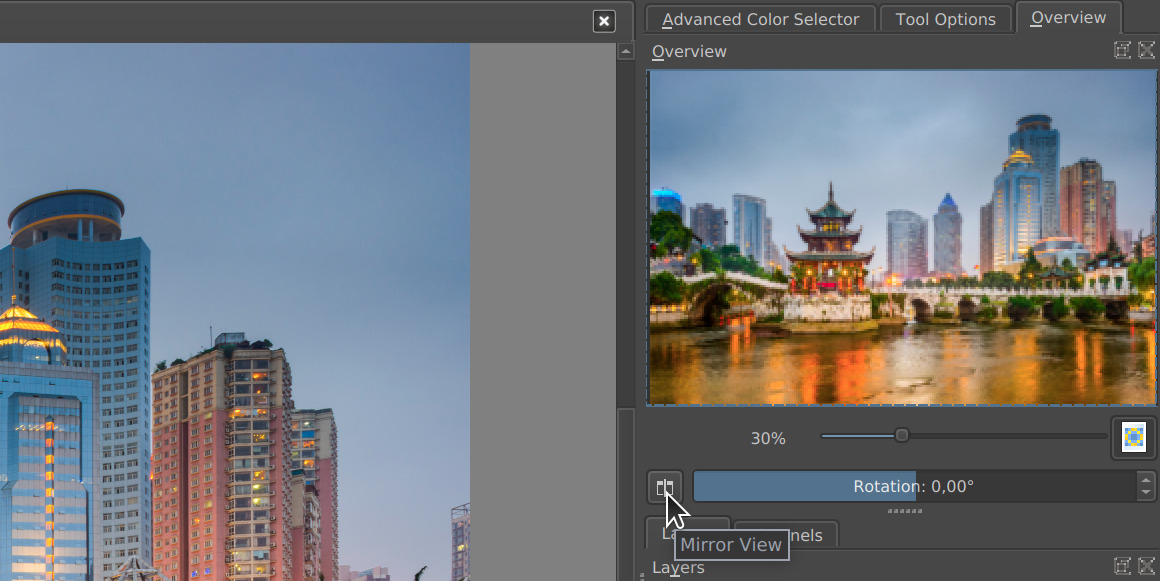 Her other patch adds a visual indicator to memory use reporting in the status bar. Instead of a button it now looks like a slider that changes color based on how much memory the application uses, with the slider color changing from the regular one used in a theme (up to 20$ of memory use) towards red (over 80%).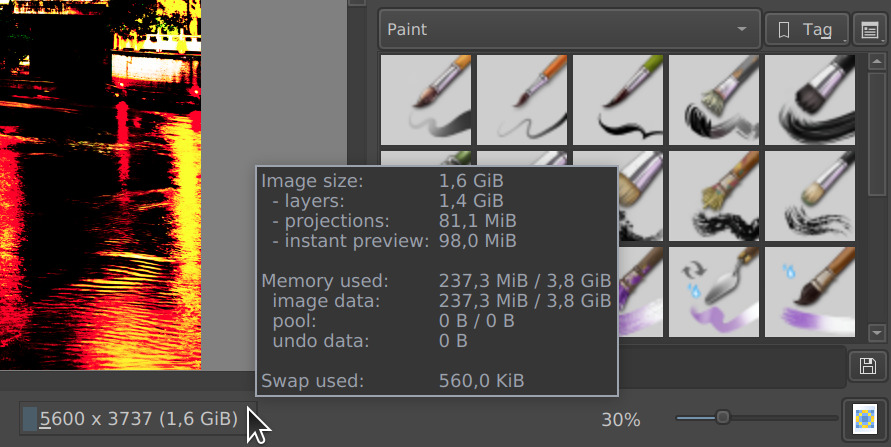 Boudewijn Rempt made all aspects of autosaving and creating backup files configurable. Here is the new Preferences page: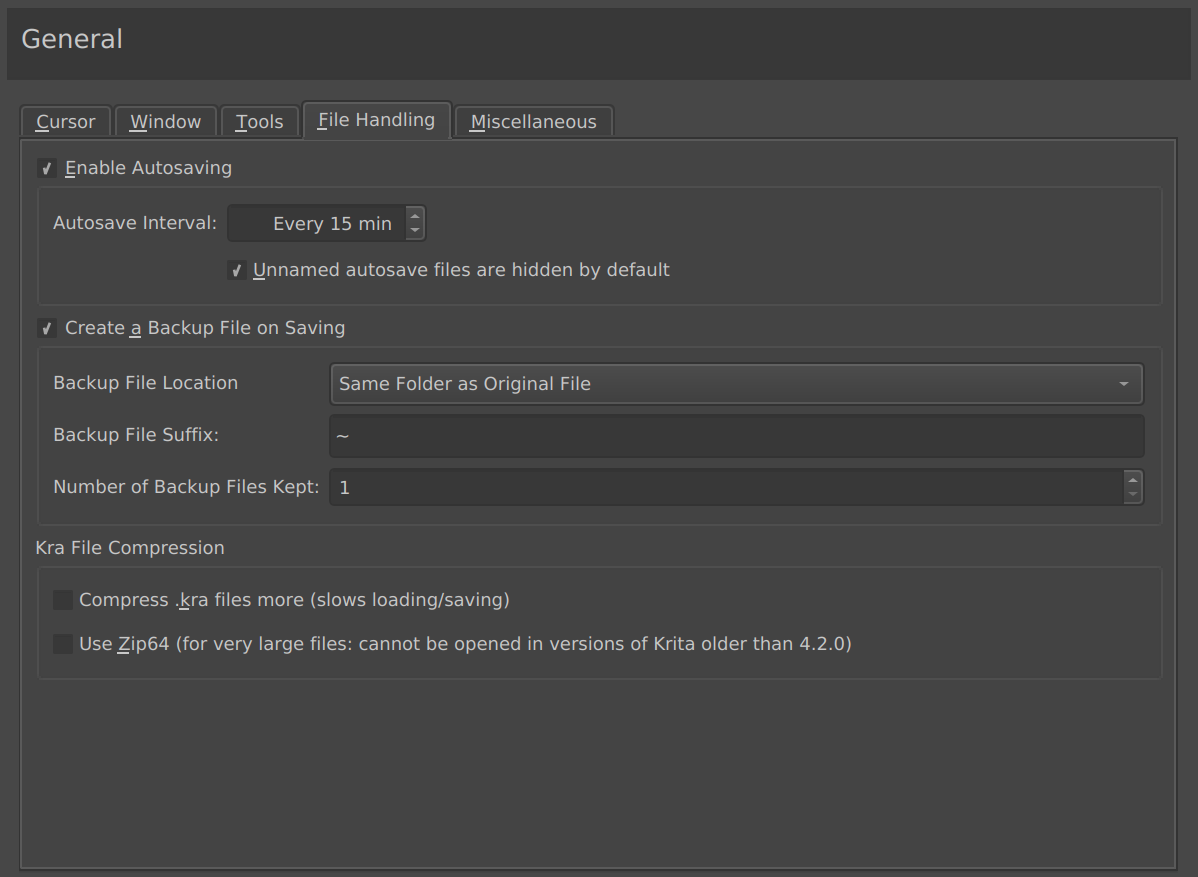 Brien Dieterle continues playing with keyboard modifiers in MyPaint:
Put your color schemes to work with lazy incremental palette shifting based on dynamic keystroke intervals. I mean mash the buttons to shift your color in big steps, or take your time and create seamless gradients. Pigment model, naturally. Coming soon @MyPaintApp @lgworld pic.twitter.com/fw6puKajbX

— Brien Dieterle (@BrienDieterle) February 22, 2019
While at that, he started revisiting CIECAM color adjusters and pickers that he wrote in 2017:
Use CIECAM dimensions for adjusting and picking colors. Adjustable Illuminant to simulate various lighting conditions. Pick any CIECAM dimension from canvas, including custom illuminant.
That code is currently in his personal fork ('HCYtools' branch).
As for Inkscape, Jabier Arraiza finally merged his work on the new live path effect selector to the main development branch. The new dialog substitutes the old plain list with icons (contributed by Ramon Miranda) and allows marking particular effects as the favorite ones, then easily show only them.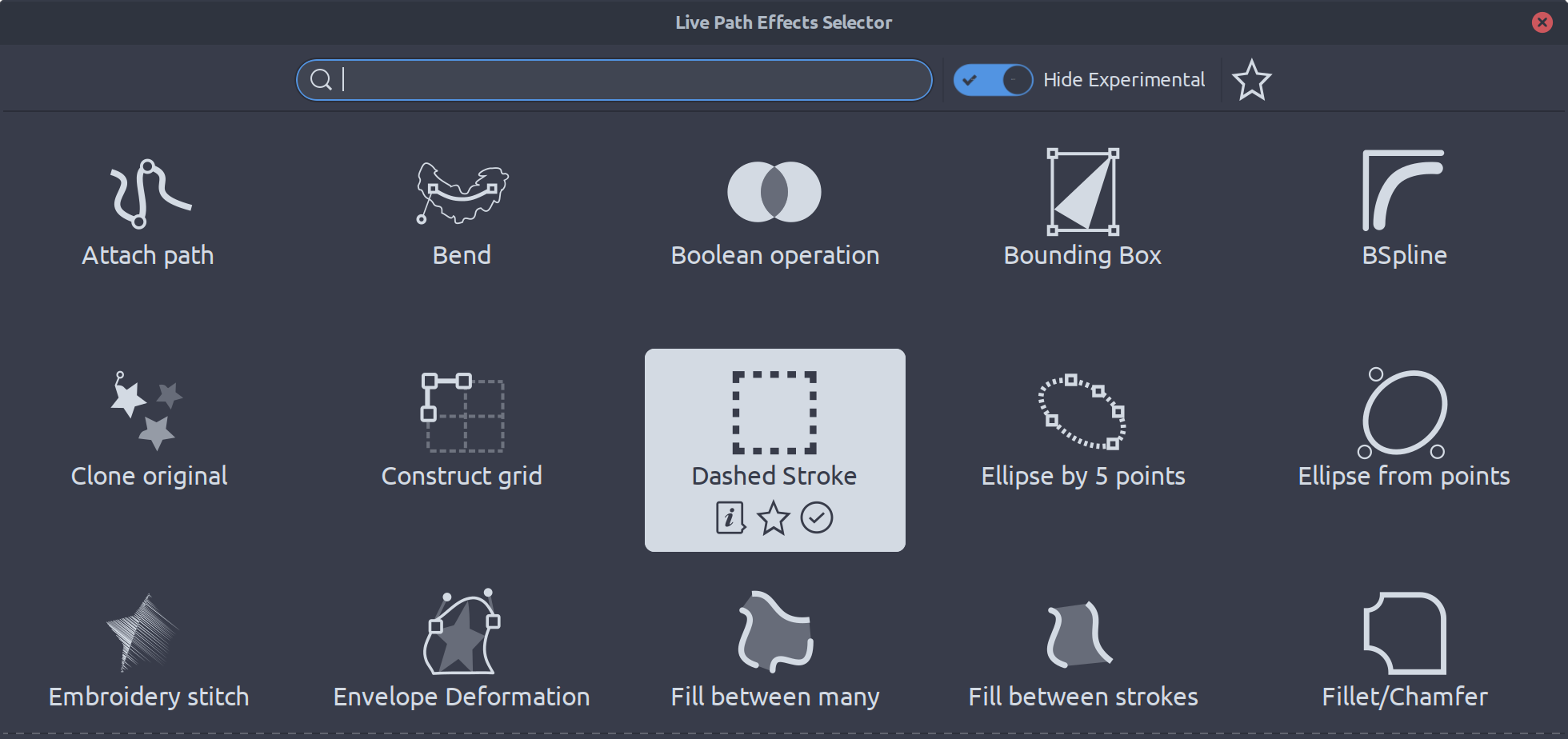 Martin Owens resurrected his old on-canvas alignment feature from 2013 and built the switch to enable it into the Align/Distribute dialog. Once enabled, press Shift+S to cycle through size handles, rotation/skew handles, and alignment handles.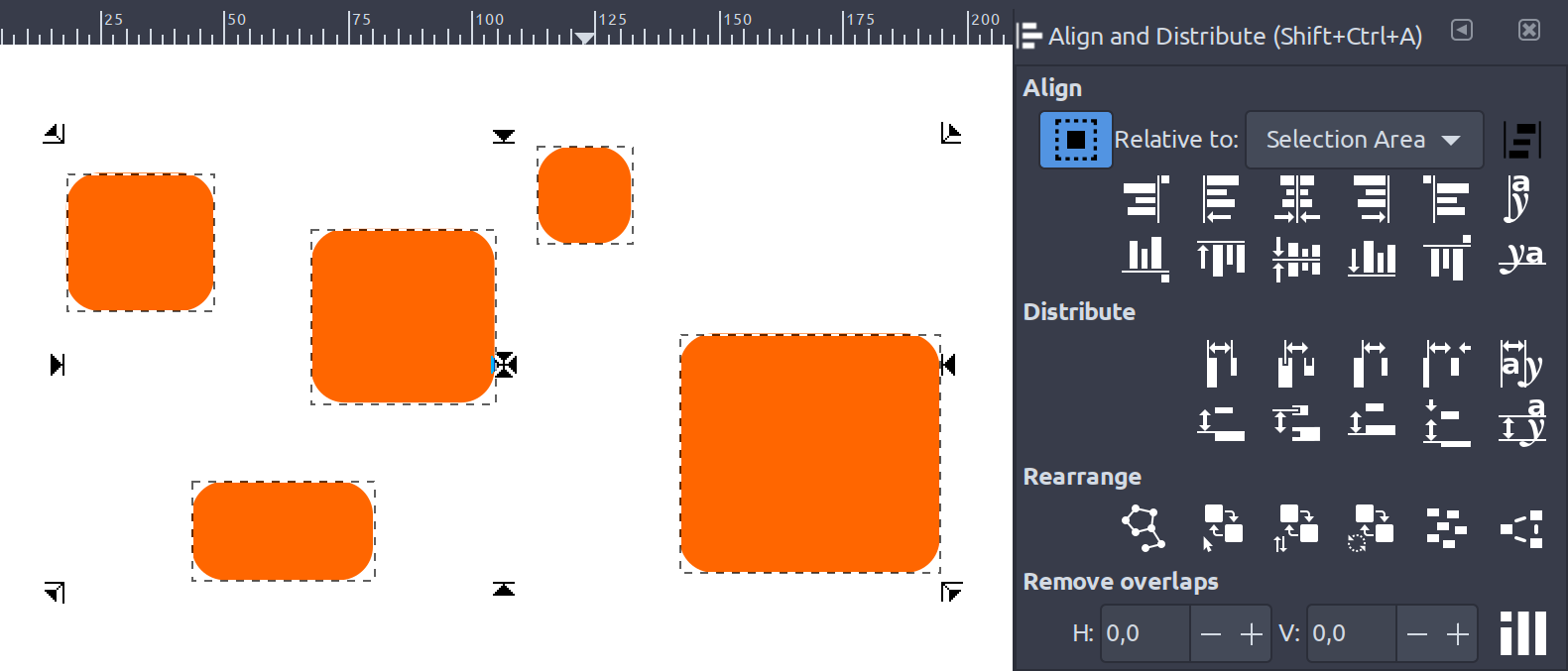 Gilles Caulier et al. released a major update of digiKam, a photo management application. Among changes: full support for video files management, simplified web service authentication, revamped Time Adjust tool, Pinterest exporting, and more. See the release announcement for more details.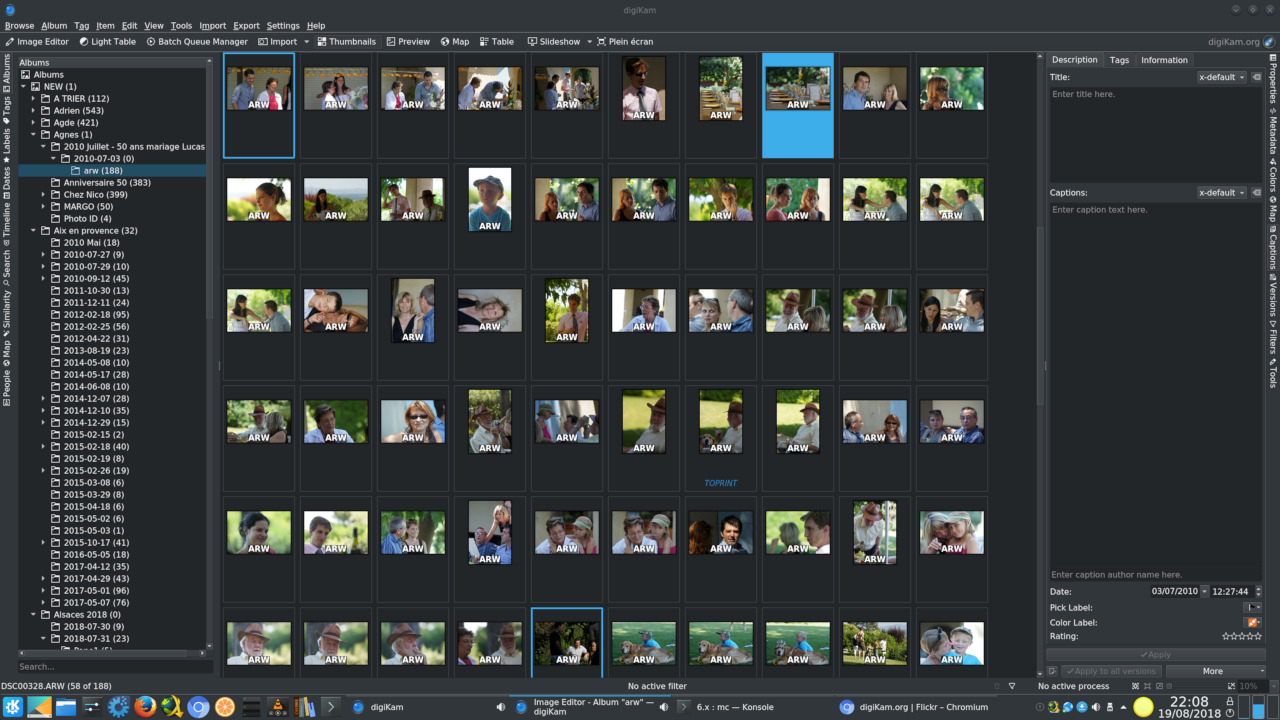 Blender Foundation announced 2.8 Homestretch Workshop week in Amsterdam, where core team developers will meet to work on leftover 2.80 design issues, collect feedback from users and the Blender studio team, plan their work on the 2.80 release, and schedule targets for 2.81 and 2.82.
Speaking of which, the London Blender Users Group announced the first full day Blender event in London on June 22. London Blender Day will have talks and workshops. The program is not yet available, organizers are currently accepting proposals.
Lewis released SimpleBake 2.0, "a one-click solution for baking PBR maps from materials created in Blender 2.8". The new version is a full rewrite of the add-on and only supports 2.80.
The BlenderKit team updated their add-on that provides access to their free online database of materials, brushes and 3D models accessible directly from Blender. The add-on supports both 2.79 and 2.80. You can read more about changes in the release announcement.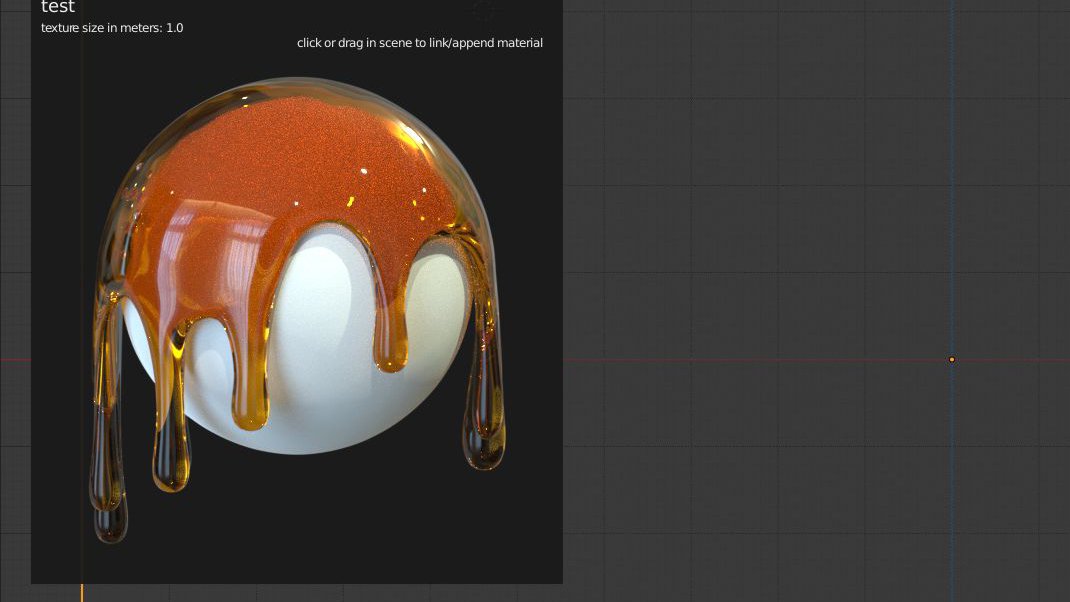 Appleseed team posted a teaser of an upcoming feature, heterogeneous volumes and OpenVDB support, added by their former GSoC student Artem Bishev.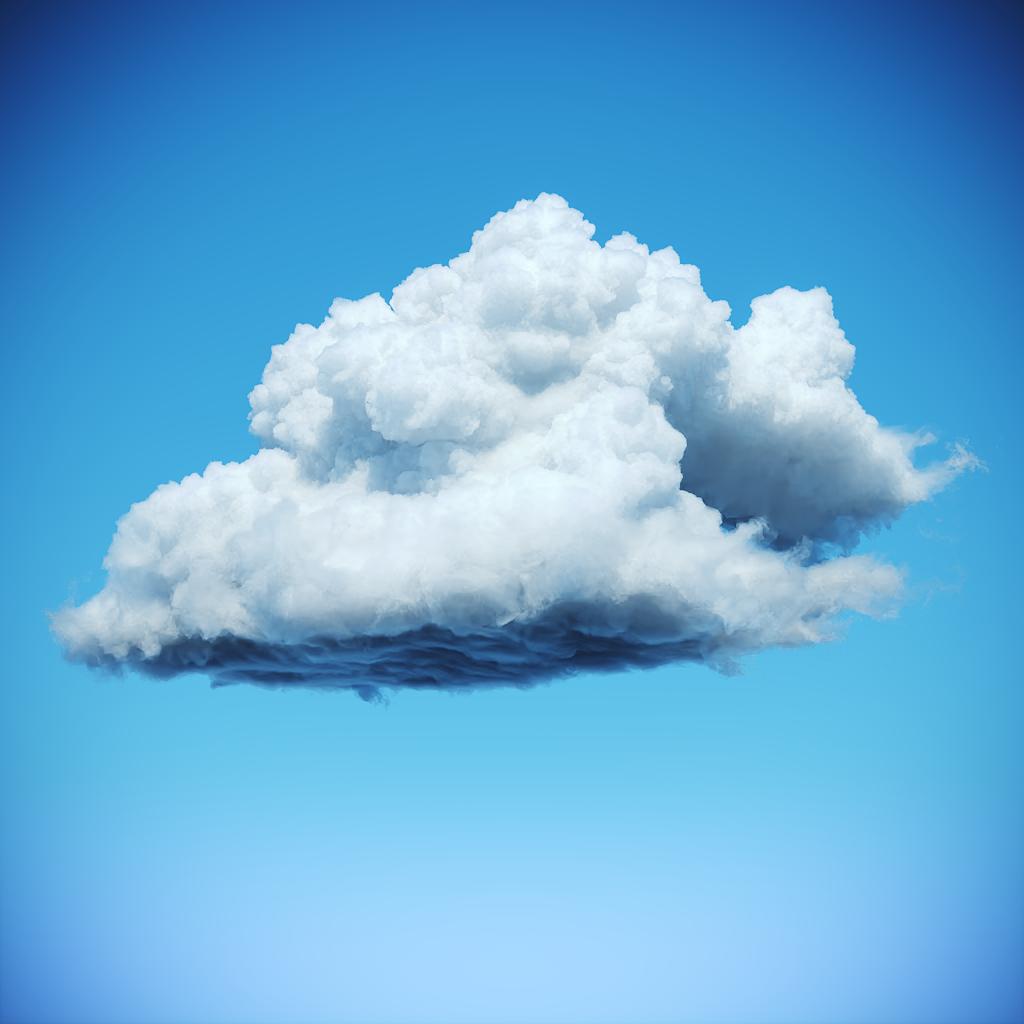 Matt introduced a few improvements to Olive, including an almost full transition tool rewrite and a new text filter option for drop shadow. He says he's going to move drop shadow into a separate filter though.
The Apertus project posted new main board photos for their modular Axiom camera.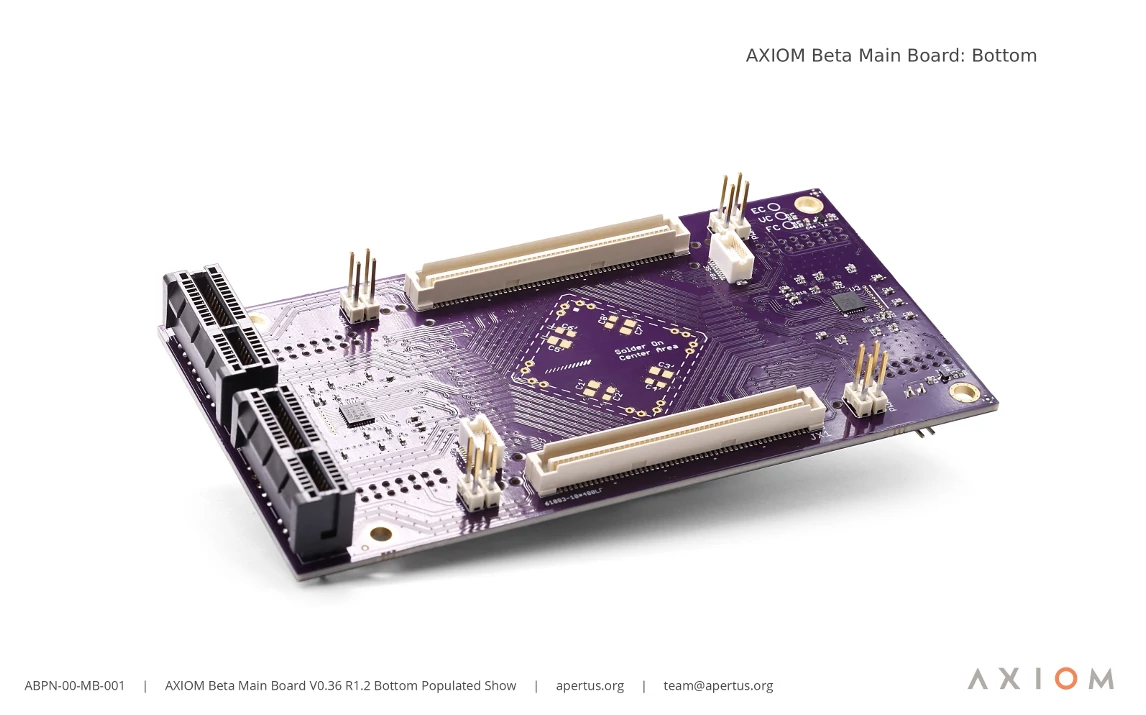 They also published a new development update, covering a new 20Mpx full-frame curved image sensor from Laboratoire d'Astrophysique de Marseille, future mass production of Axiom beta, and application submission for GSoC2019.
Tobiasz "unfa" Karon now maintains a newly created official Ardour's channel on YouTube. He made quite a few Ardour videos in the past, so the team decided to get him on board as the official educator. Unfa started the new channel with an Ardour intro:
Ardour developers continue doing the boring under-the-hood work, but there are some user-visible changes again. First off, Alby M. contributed a MIDI Remap plugin in Lua. Then, Robin Gareus rewrote some of the latency compensation code to reduce a processor's latency to zero and prepare for a global switch to use zero latency throughout the whole session.
Andrew Belt continues hacking on VCV Rack 1.0. Some of the latest changes are a headless mode and various clean-ups. Peter Kirn of CDM fame wrote a quick overview of upcoming changes.
Another timelapse from grafikwork:
Ilker Beşken posted an Inkscape timelapse about drawing an Alps barn, based on a pencil sketch.
Bruce Williams posted a tutorial explaining how to use the local contrast module in darktable (a a substitude for the Clarity slider in Lightroom).
GDquest posted a new Godot tutorial explaining how to block attacks with a shield as in Zelda.
Sylvia Ritter posted some new artwork made with Krita, including Disco Dingo for the upcoming Ubuntu 19.04 release: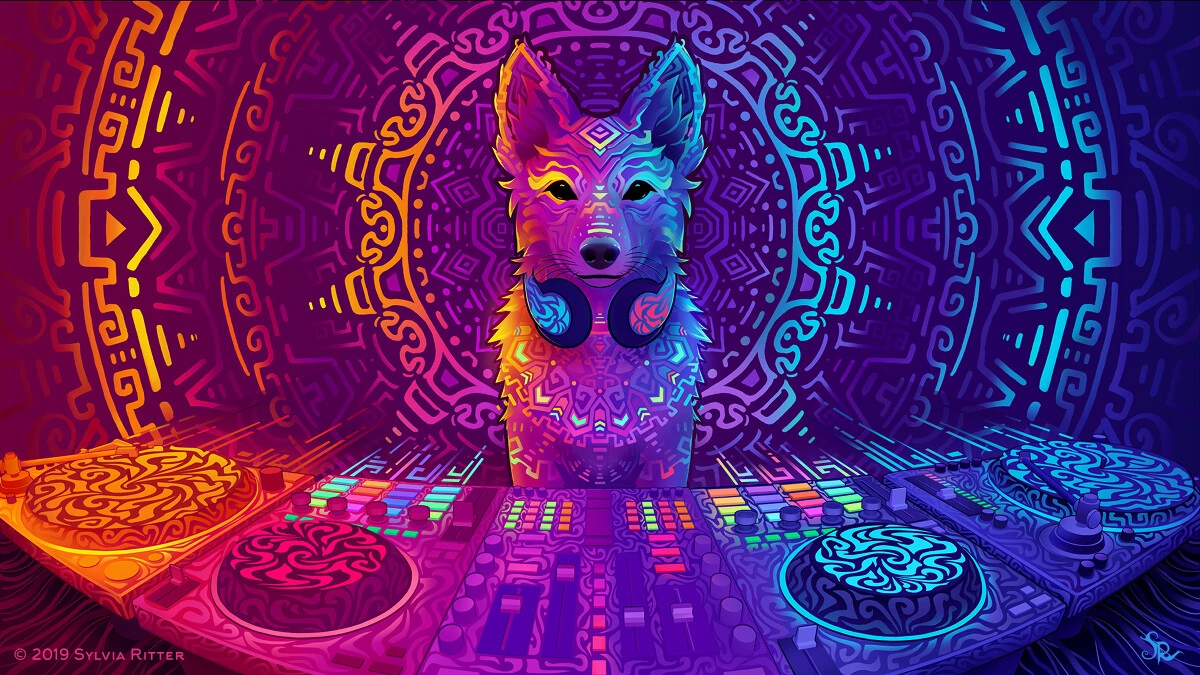 A Mexican game studio Bad Tomato Games published some new concept art made with Krita for their upcoming title 'Balam and the Spirit Within'.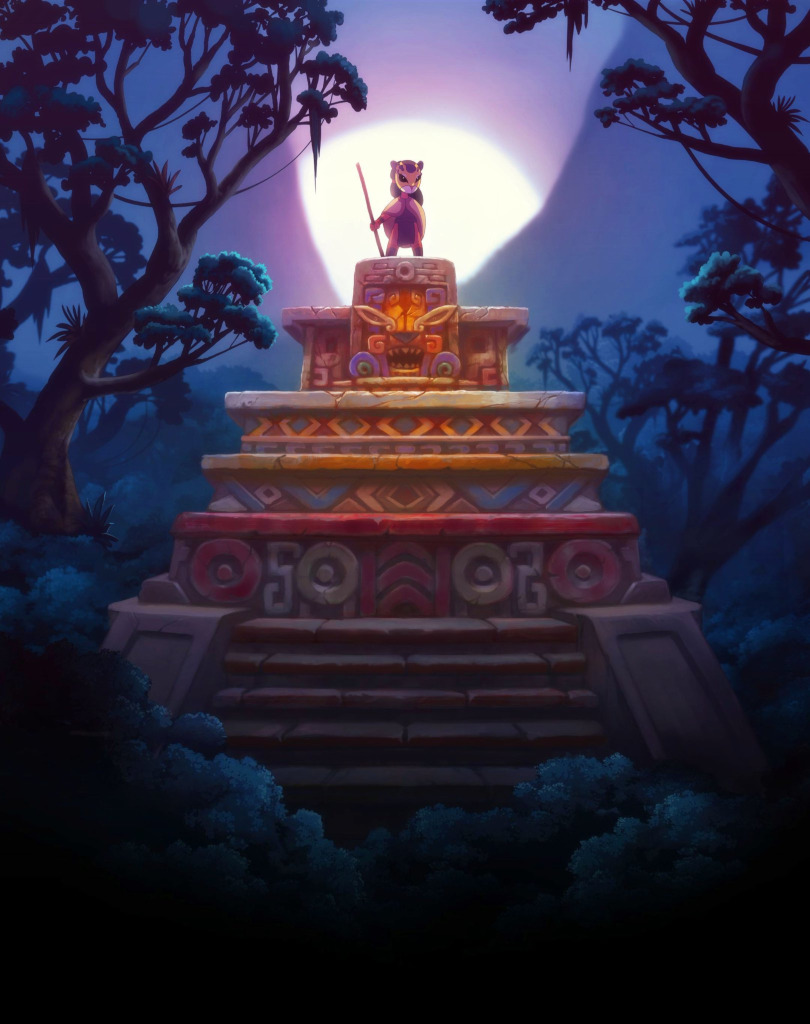 You can also watch them live-painting some other NPCs:
BD3D posted a new render made with Cycles, called 'Dead Wood Cabin'.