Highlights: development updates from IfcOpenShell and Apertus projects, Mantaflow and USD support to undergo review for Blender 2.82 inclusion, Ardour is getting built-in MP3 support (for realzies!).
It has been a more or less quite week for both GIMP and Krita, although Agata Cacko was really busy hacking away on resources management in Krita's dedicated branch, fixing and improving the searching by tags etc.
Not too many news regarding MyPaint, but if you were looking for a dedicated chatroom for the project, there is now an official Discord server.
Blender 2.81a has been released with bugfixes.
Grease Pencil refactor won't make it to version 2.82. You can check out the 'greasepencil-refactor' branch in Git though. Same with LANPR and VR: they aren't likely to undergo the review in time for bcon2, and since those are big features, they will probably be skipped in 2.82.
On the flip side, Sergey Sharybin will review Mantaflow and Universal Scene Description patch/design this week. Speaking of which, Leif Edersen et al. published a blog post on Pixar's USD-based pipeline, both pre-production and production stages. No use of Blender, but an interesting insight into the inner workings at Pixar.
There's the usual sculpting awesomeness from Pablo Dobarro:
Thanks to the performance improvement of the Sculpt Mode vertex colors new tools with real time preview can be supported, like this Color Gradient Tool #b3d pic.twitter.com/55Vb98BJtN

— Pablo Dobarro (@pablodp606) December 5, 2019
In other news, Dalai Felinto moved to Amsterdam to work fulltime in Blender.
Rémi Verschelde says the Godot team is organizing a new GodotCon around FOSDEM in Brussels on 3 & 4 February 2020. They will also have a booth at FOSDEM and co-host the gamedev devroom on 1 February.
Oh, and if you've been wondering about new features in Godot 3.2, here is a video from GDquest explaining how to override the control over the game camera form the editor.
Embark Studios, who are gold sponsor of Blender, released their Embark add-on for Blender. The add-on includes tools for standardized import/export gamedev workflow, 3D modeling, and new object types. Get it from GitHub.
Thomas Krijnen posted an update on IfcOpenShell 0.6 development. One of the biggest changes in the upcoming new version is support for multiple IFC schemas (IFC2X3, IFC4, IFC4X1, and IFC4X2) in the same executable and plug-in.
The Kdenlive adapter by Vincent Pinon has been accepted to upstream OpenTimelineIO. This means interoperability between several NLEs, both free/libre and proprietary. The feature will be available in Kdenlive 20.04. Meanwhile, version 19.12 is about to be released.
The Apertus team, who work on the open AXIOM modular camera, posted a new progress report, covering the topics of AXIOM Remote and Google Summer of Code 2019 projects.
There's more information in a recent blog post.
A certainly interesting project I've only just run into is GridSound by Thomas Tortorini, Melanie Ducani et al. It's a work-in-the-progress DAW that works in your browser, it's free/libre (GNU Affero General Public License v3.0), and it has a working demo.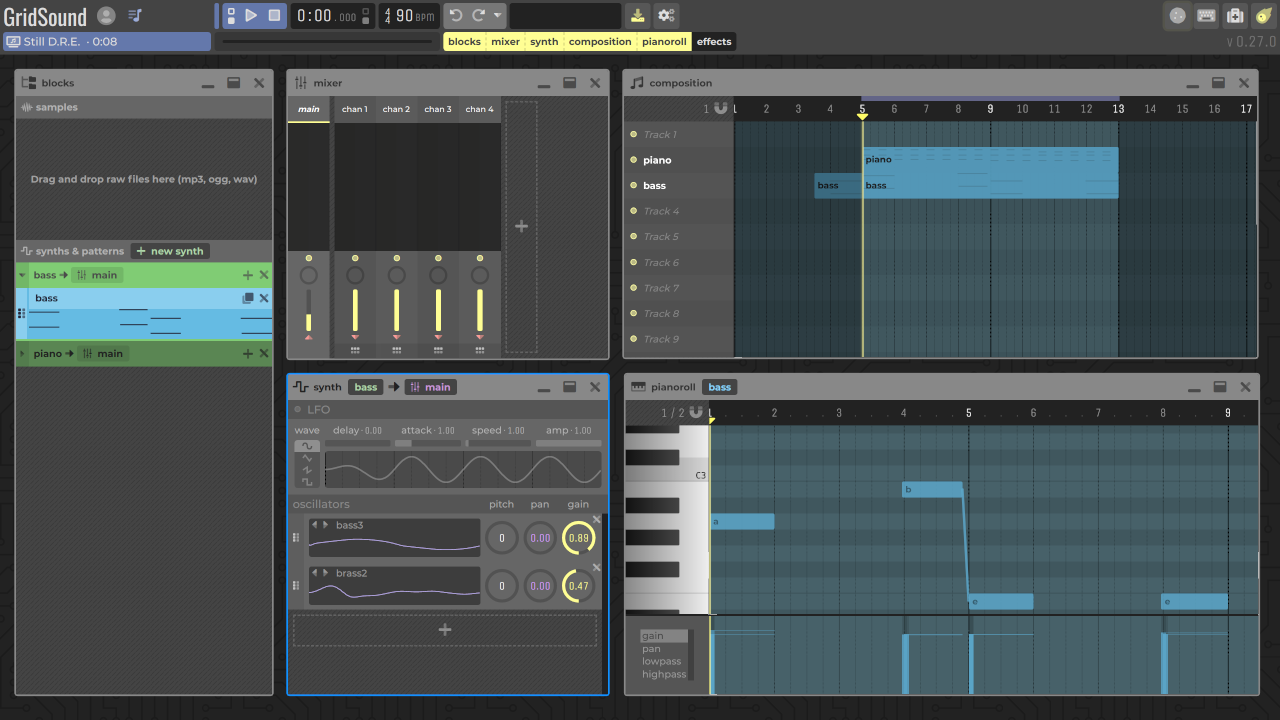 Technically, it's an HTML5 app that relies on Web Audio API. It comes with a timeline, a MIDI clip editor, audio playback (you can drag and drop pre-recorded audio files), a mixer, a built-in synth, and a simple audio filter. Fun fact: Brian Eno even tweeted about GridSound two years ago!
Robin Gareus recently updated Ardour's file format version to 6000 with this very commit message:
Ardour 6.0 Alpha - Enterprise Edition
Its 5 year mission
To explore strange new sounds
To seek out new bugs and new users
To boldly go where no Ardour session has gone before
Seem like alpha release is getting closer indeed!

Among other changes, one thing I did not see coming at all is making MP2 and MP3 valid extensions. Which means these files can now be imported to sessions on Linux and Windows (it already worked on macOS because CoreAudio has native support for it). The implementation uses the minimp3 library by Lieff for decoding and seeking.
Developers still don't like the idea of MP3 sources in mixes but claim that samples in MP3 are a legitimate use case.
I haven't mentioned Qtractor for a while. Rui Nuno Capela recently added basic key signature support to tempo, time signature and location markers map.
The Open Music Kontrollers project has been recently busy working on the Mephisto LV2 plugin. If you are interested in developing your own effects and instruments, you are probably going to like this. Basically, it's FAUST running as an LV2 plug-in. You can edit the effect code in your text editor of choice, then save, and Mephisto will rebuild and reload it to apply the effect to your track or bus. This is kinda early work, there have been no releases yet, but if you are feeling adventurous, go grab it at GitHub.
There's more VCV Rack goodness coming:
Coming in Rack v2: Three new modes for interacting with knobs using a mouse or touch screen: Linear (this is how knobs work in Rack v1), Scaled linear (move horizontally to adjust dragging speed), Absolute rotary, and Relative rotary. pic.twitter.com/EHbVO8Ks5E

— VCV (@vcvrack) December 6, 2019
More baby Yoda craze, this time from SouthernShotty:
Louis du Mont created a Blender 2.81 tutorial on modeling a simple LCD face effect.
Joko Engineeringhelp published a short introduction to the TechDraw workbench in FreeCAD:
New Inkscape timelapse by grafikwork:
Colin Levy completed SkyWatch, a Sci-Fi short he started working on back in 2012. All CG was done using Blender, with Andrew Price and Pawel Somogyi serving as 3D Leads.
Ian Failes did an excellent behind-the-scenes interview with Colin at befores & afters.Well worth reading, if you are interested in how a project like this gets done!
Martin Trokenheim's PWN character doesn't mess around! (Painted with Krita)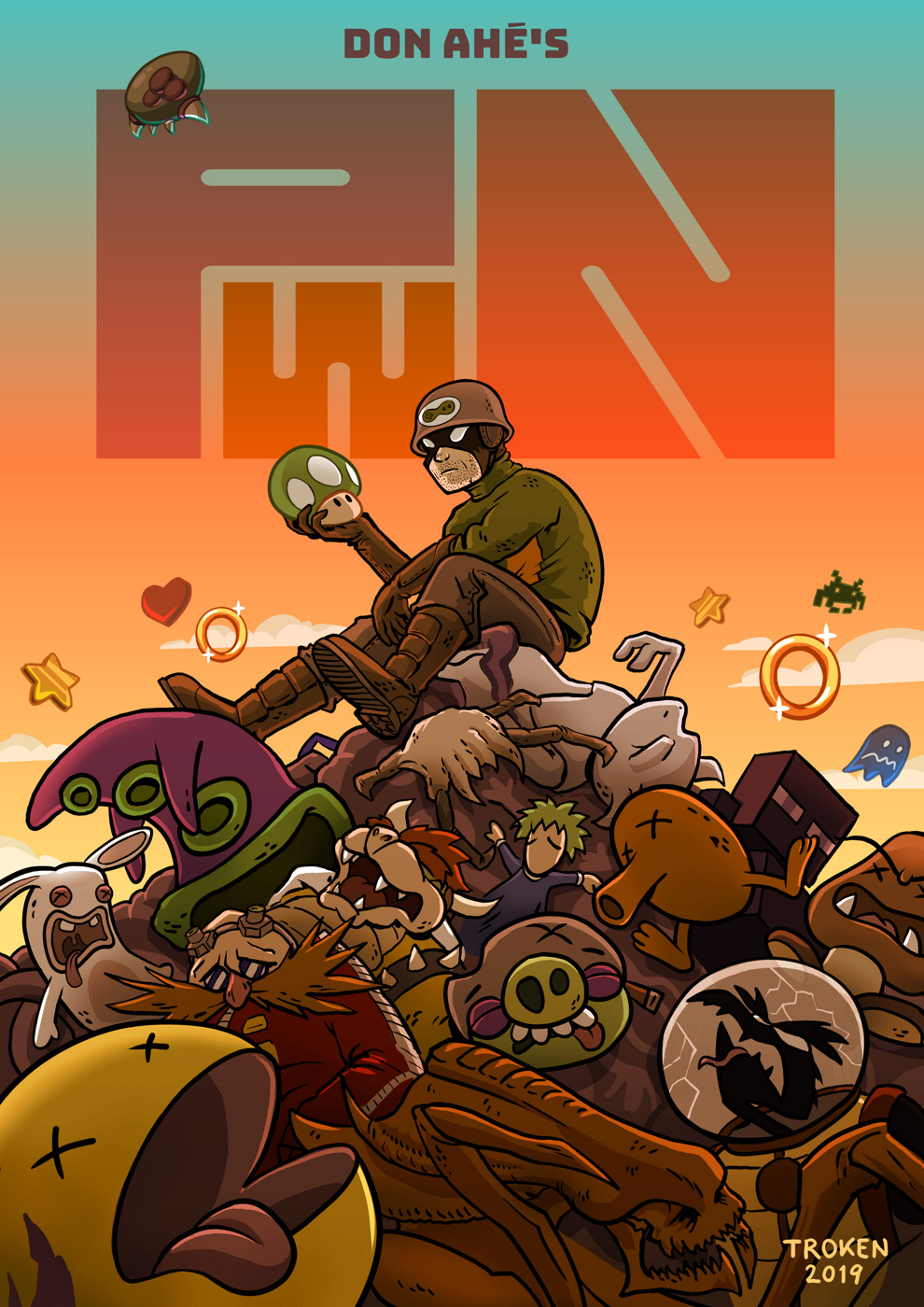 The Great Wall by Philipp Urlich, made with Krita as usual: