ART / Synfig / OpenToonz / GIMP / Siril / Blender / enve / Olive / Shotcut / Krita

Weekly
Week recap — 3 February 2020
by Alexandre Prokoudine
New releases of ART, Synfig, and OpenToonz, massive improvements in GIMP, Siril, Blender, enve, and Olive, new beta of Shotcut, a great deal of bugfixing in Krita for upcoming v4.3.0.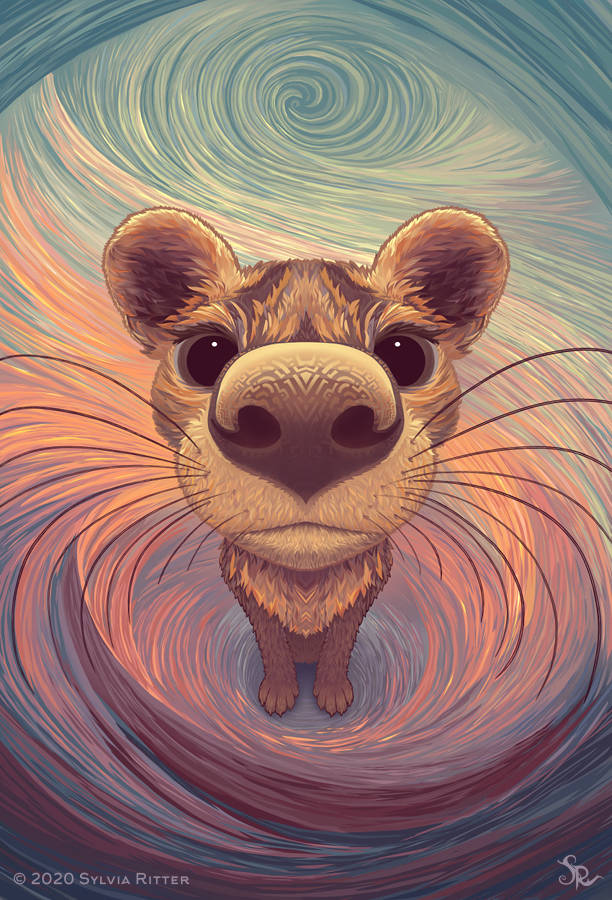 Highlights: new releases of ART, Synfig, and OpenToonz, massive improvements in GIMP, Siril, Blender, enve, and Olive, new beta of Shotcut, a great deal of bugfixing in Krita for upcoming v4.3.0.
January has been all sorts of fun for many projects. While Krita developers were focusing on the challenging resources management rewrite and bugfixing, the GIMP team had several busy weeks fixing a few old bug reports. And when I say 'old', I mean '16 years old' kind of 'old'. I'd like to return to this topic in great many details when the next release is out, but for now, here is a quick list of changes.
Sliders now use a compact style by default. Benefits: streamlined interaction, better use of screen estate, numeric input field doesn't get in the way anymore.
Tools are now grouped in the toolbox by default. This cleans up quite a bit of space and makes the default layout rather irrelevant in my opinion.
The much hated "You can drop dockable dialogs here" message in the toolbox is now gone for good. Instead, GIMP highlights areas for docking once you start dragging a dock by its title bar.
New 3D Transform tool: think effortlessly making an image stretch into perspective towards a vanishing point in a way that looks realistic
Composite preview on the canvas: the layer you are transforming will not pop above the rest of the layer stack.
Clipping preview on the canvas: you'll see exactly how clipped layer will look after you are done rotating or perspective-correcting.
Preview of transformation for linked layers: all linked layers will update on the canvas.
New pivot selector widget: easily set position of the pivot to one of 9 presets.
Easier layers merging: only see the anchor button when a floating selection is available, otherwise see options for merging multiple layers.
All of this will be available in version 2.10.16.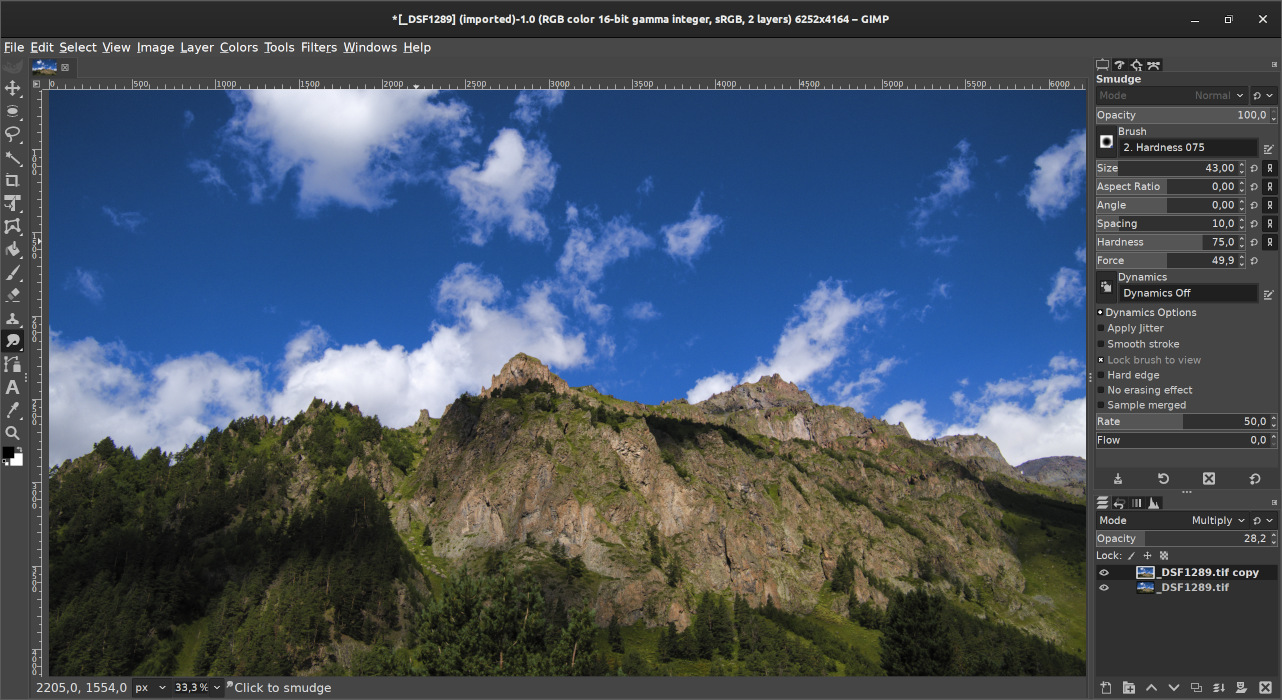 Alberto Griggio released ART 1.0, his friendly fork of RawTherapee. It comes with UI changes, some features ported over from darktable, some new tools for local editing etc. You can find out more from the wiki page.
I don't usually cover scientific software, but Siril is great for astrophotographers just as well and it's been seeing some nice improvements lately. There's 32-bit float support in progress, the team is switching to librtprocess to make use of RawTherapee's pack of algorithms, and they recently started doing a UI revamp where image preview is finally right in the main window.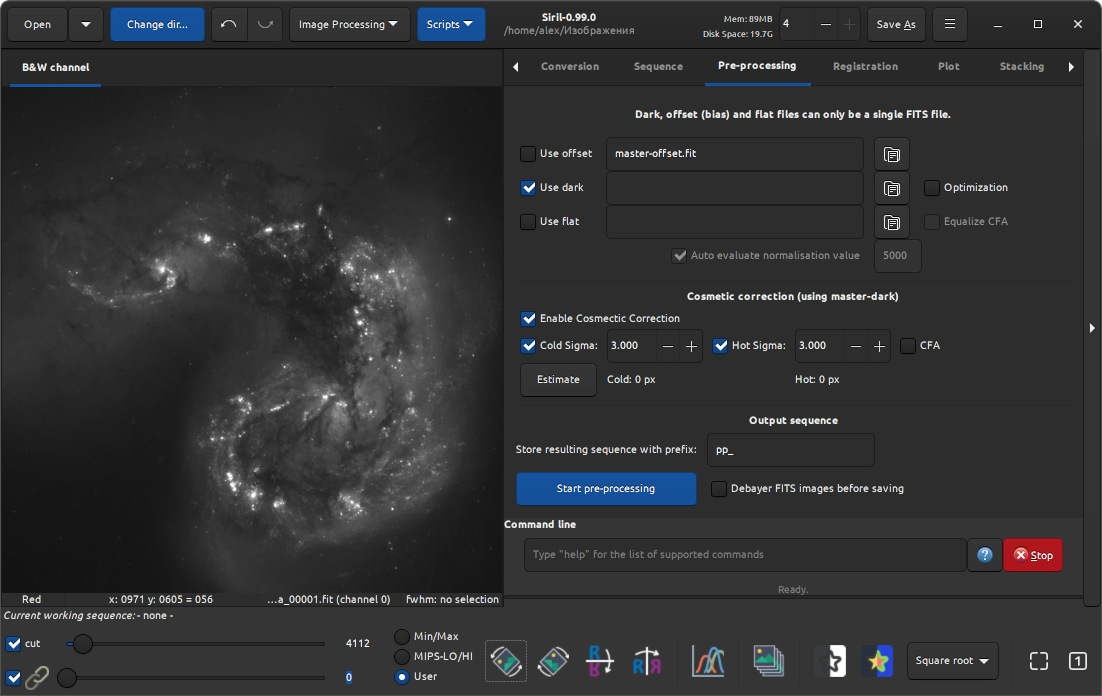 They also got some help to get flatpak and macOS builds up and running, with contributions from Alex Samorukov (GIMP) and the Pixls community. Ingo Weyrich from RawTherapee is helping them to improve Siril's performance too.
The Synfig team continues hacking on the project. Most recently, they merged the sound dock implemented by Rodolfo Ribeiro Gomes. This is now available in the master branch and will be part of the upcoming v1.3.12 release leading up towards 1.4.0. In fact, the release has already been cut, the official announcement will be available shortly.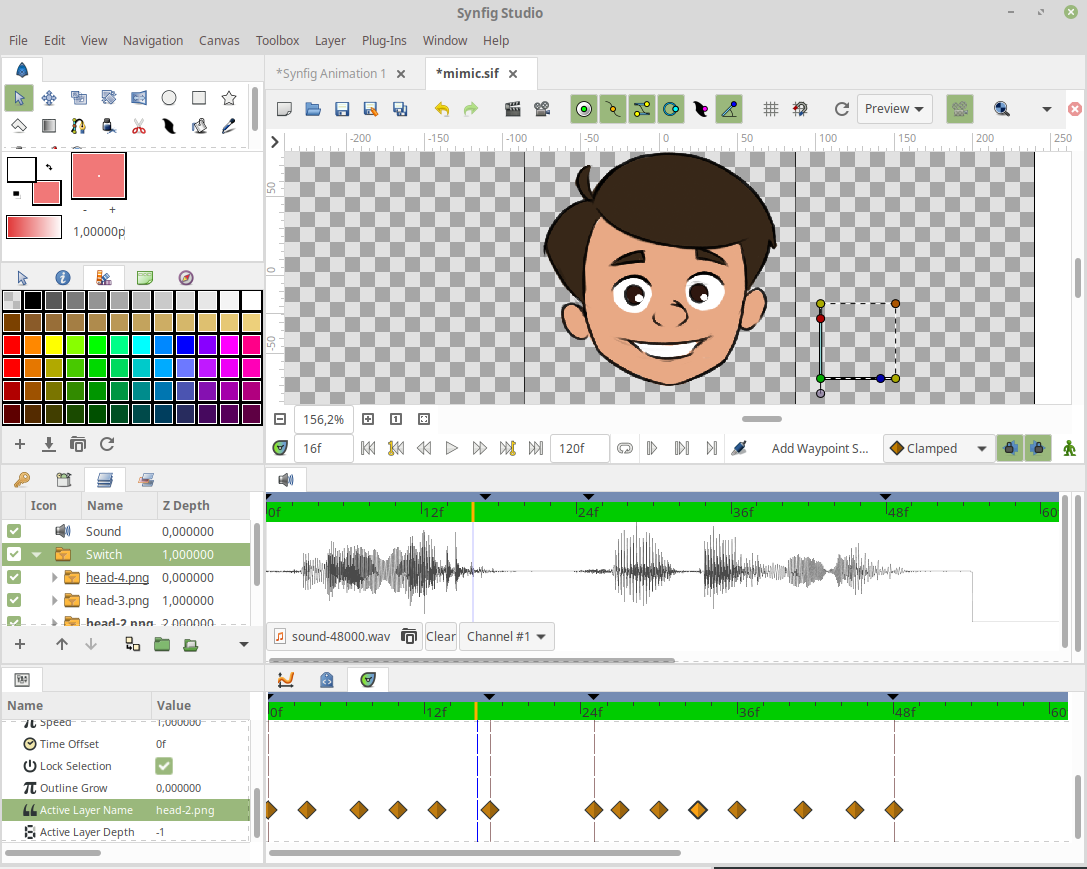 Meanwhile, you can read more about the changes that will be part of v1.4.0 (that includes everything you will see in 1.3.12).
There has been a ton of improvements in enve since my coverage in December:
Undo/redo support
Text effects
Vertical and horizontal text alignment
Paths sculpting
Dropping files into Files dock now possible
Frame remapping for Scene links with floating point precision
SrcATop and DstATop blending/compositing
Math expressions to change values
Dwango released OpenToonz v1.4. Quite a few new features as compared to v1.3, here are just some of them:
Guided drawing / autoinbetweening
Camera column in XSheet
Context-aware toolbar
Geometry tool driven motion paths
Next/Previous keyframe shortcuts
Fill tool for raster level
Updated and reorganized menus
Canon DSLR camera capture support (Windows only)
As usual, only Windows and macOS builds available. Morevna Project will probably supply an AppImage soon.
Dalai Felinto posted a review of big projects for Blender in 2020. It's absolutely a must-read if you are interested in what's coming for the project.
Richard Antalik, the maintainer of the video sequencer, is now working full-time on Blender, and five people joined the studio team to work on assets, the Cosmos Laundromat series, and new training material.
Pablo Dobarro is killing it with the new Cloth brush:
The Cloth Brush has an alternative plane falloff mode which drags cloth from an entire cross-section of the model at the same time. This results in a more intuitive way of manipulating cloth compared to the standard radial falloff sculpt brushes have. #b3d pic.twitter.com/VUjuNzlQSJ

— Pablo Dobarro (@pablodp606) February 1, 2020
And there are all kinds of improvements heading towards Grease Pencil:
We are working in a lot of improvements for Grease Pencil. Thanks very much to @hypersomniac_ (EEVEE developer) for his magic!!! pic.twitter.com/Uu1nwDQg6p

— Daniel Martínez Lara 🔶 (@_pepeland_) January 30, 2020
Intel announced the release of OSPRay v2.0.0. New version of the open source (Apache License 2.0) raytracing engine comes with new Intel Open Volume Kernel Library (enhanced volume sampling and rendering features and performance), as well as direct support for Intel's Open Image Denoise as an optional module. See here for more details.
Yorik van Havre posted an update about his work on FreeCAD in December '19 and January '20. Do check it out. Some of the highlights are: Blender add-on for exporting to FreeCAD native project files, multi-line editor for text blocks in the Draft workbench, gatching inside 3D view etc.
Lately, there has been some activity in the LibreCAD 3 git repository courtesy by Akhil Nair and Florian Roméo. This is quite encouraging given that the v2 branch is rather silent. The changes are mostly small refactoring, UI work, drawing capabilities and continuous integration improvements.
Brian Matherly contributed a vectorscope to Shotcut, and Dan Dennedy added a new Settings > Preview Scaling option. The beta of v20.02 is now out, you can grab and test it.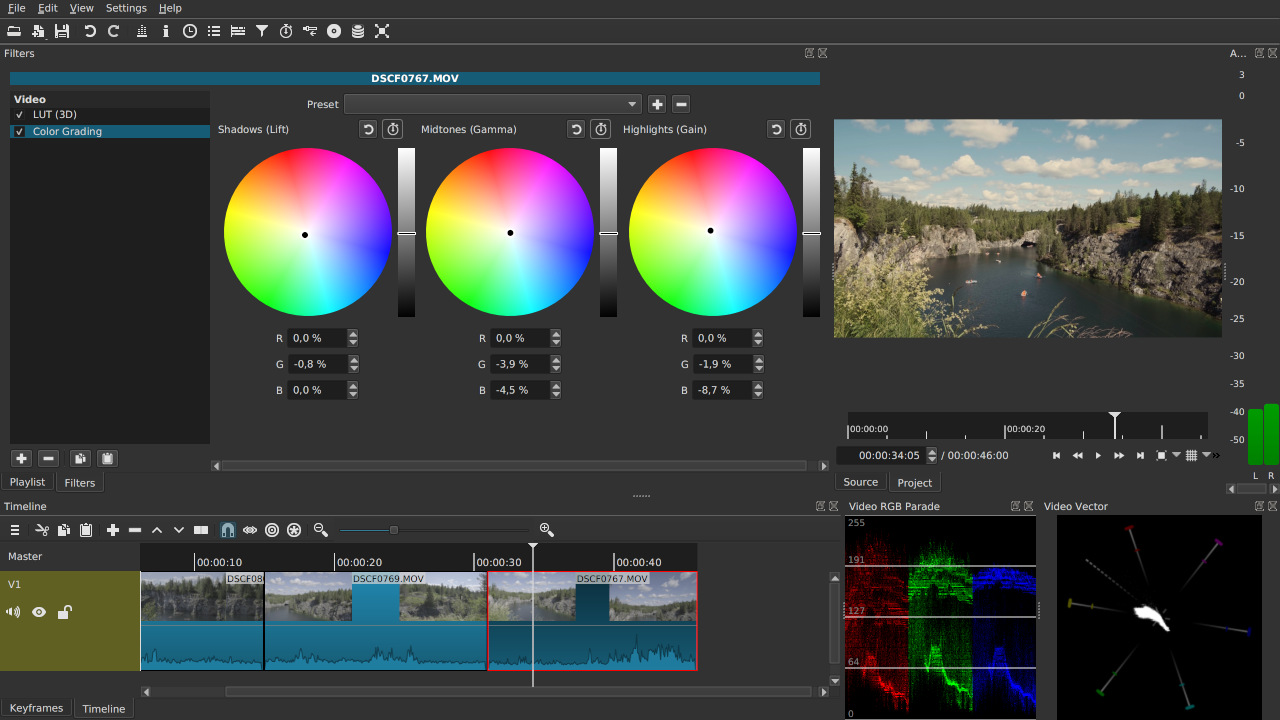 Volker Kohaupt completed the rewrite of vokoscreen, his screencasting application. The new version called vokoscreenNG now relies on GStreamer rather than FFmpeg directly (unfortunately, this means no VP9 support, at least on my setup).
MattKC came out of the blue in mid-January and delivered well over 300 commits to Olive accumulated in his private repository since early December. He didn't stop at that though. Basically, it's a huge chunk of the complete rewrite that started last May. I think the shortest summary of the changes would be "no stone left unturned". Here are just some of the major changes:
New node structure, with multiple node iterations support.
Olive can now read fragment and vertex shaders from nodes, various effects have been moved to external shaders
External xml/shader loading for transitions (which are nodes) now possible, so that contributors could write external code for transitions.
New caching system with cache visualization and a hybrid indexing system.
New Export dialog has a preview area and OCIO settings.
OpenColorIO configuration is a project-level setting, the viewer has a complete color management support, with configurable display, view, and look parameters.
OpenImageIO is sipping through various bits of Olive
Keyframing and curve editor for video and audio clips have been rewritten from scratch
Support for multilayered keyframes is now available, which means you can keyframe more than one value per input (e.g. a vec2, vec3, etc.).
Rewrite of several timeline tools including transitions, as well as video/audio speed stretching
Automated builds for Windows, Linux, macOS
Now, here comes a warning in big fat red letters: Olive is nowhere close to being usable when used from git master. It crashes a lot and even plays audio clips after audio clips are over. There's weird things going on everywhere. None of that worries me, because somewhere deep down, Olive is shaping up to become extraordinary now that it's based on solid foundations like OCIO.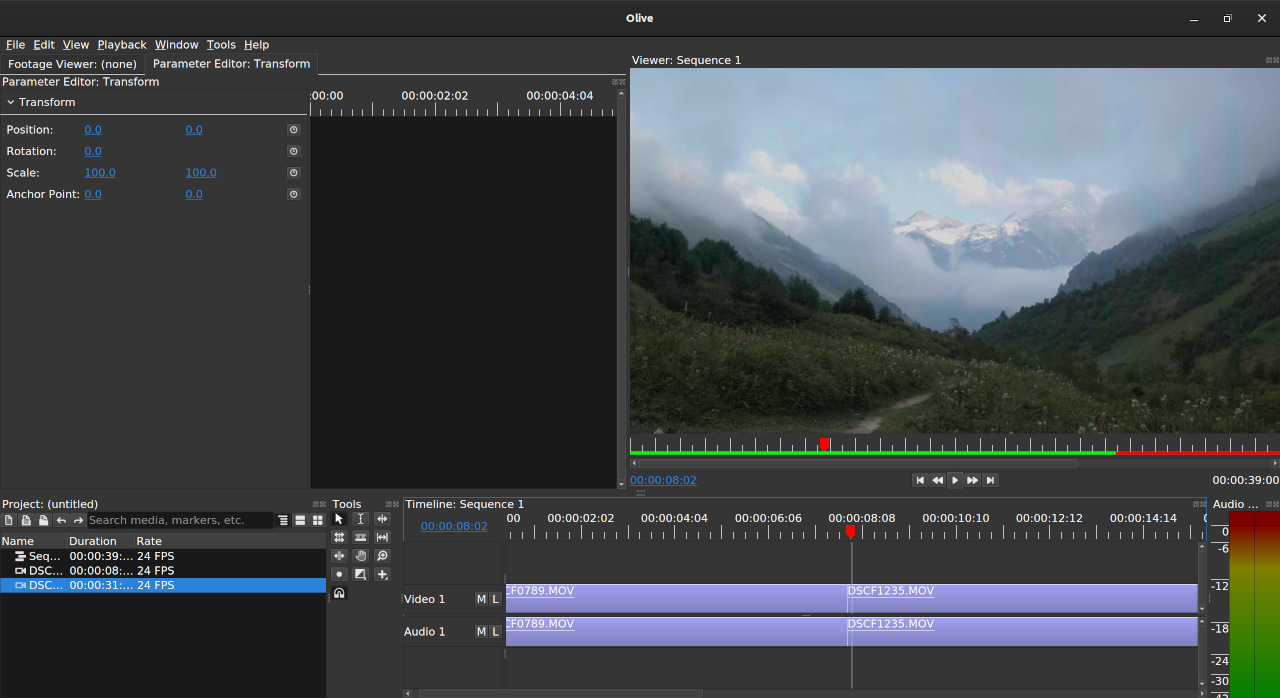 My only concern here is that, similarly to other projects that I cover, Olive is being written pretty much by just one developer. This is unsafe as hell, yet there's little to do about that until the end of the rewrite. I can think of just one other person who understood the old codebase well enough to consistently hach on it, and it's jonno85uk who preferred to fork Olive into a project named Chestnut.
One last thing to mention here is that I need to retract my earlier statement about Olive from the master branch not being able to drop clips onto the timeline. What actually happened is that Olive now requires manually creating a sequence first. Then you can drop media files. Previously, it automatically created a sequence with settings from the first video file you fed it with. This might be changed back, I just don't know at this point.
Stefan Westerfeld released liquidsfz 0.2.0, a free/libre SFZ sampler. Among user-visible changes, the new version features an LV2 plugin, support for <control>/<global>/<master> sections, and support for opcodes such as key switches, crossfading for layers. It also ships with more amp-related opcodes and allows changing more parameters using CC.
And if SFZ is your thing, check out sfizz, another SFZ library for supporting this file format. There have been no public releases yet though.
Ninjas2 slicer available as an LV2 plugin is out with redesigned interface. All controls are now divided into three groups (Global, Slicing and Slice), and the keyboard allows clicking on a key to play the dedicated slice. Builds for Linux, Windows, and macOS are available for downloading.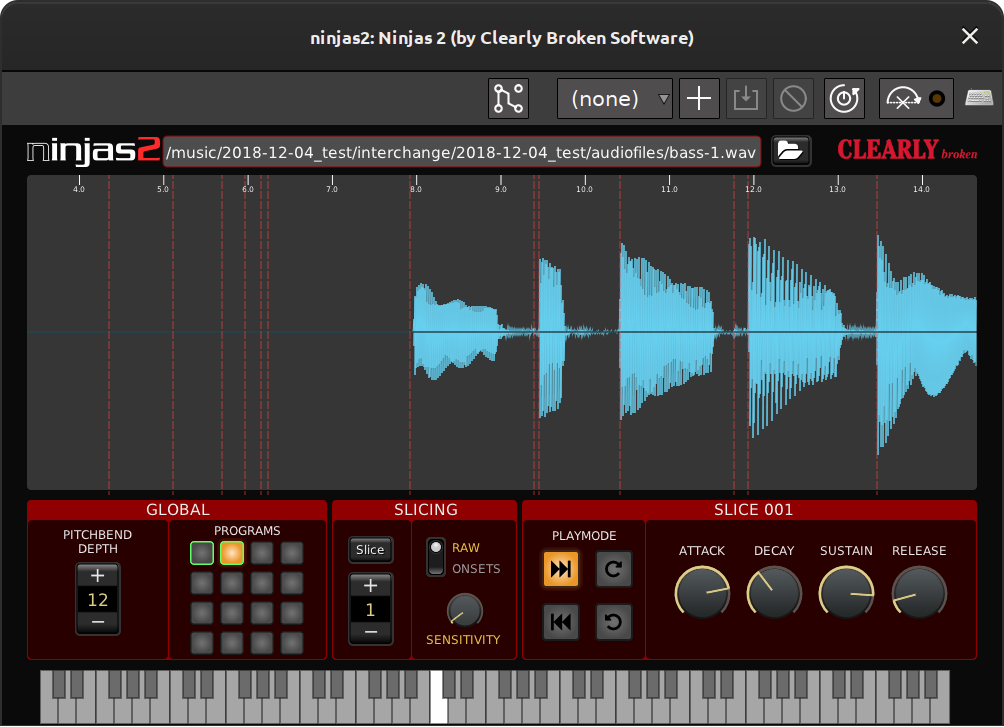 Aurélien Pierre wrote an article on darktable's gradual switch towards linear RGB and away from CIE LAB for image processing. He also outlined which modules are and are not recommended to use right now and which modules should be used instead. This is an absolutely must-read for anyone using darktable.
Nick Saporito shot a new tutorial on using the Pattern Along Path live path effect in Inkscape:
There's a new Inkscape tutorial from PixieArt as well, this time on drawing a celtic knot:
New awesome tutorial by Aidy Burrows on retopology tools in Blender 2.8x.
Timelapse by TopChannel1on1 on modeling ancient Greek architecture:
New artwork by Philipp Urlich, made with Krita: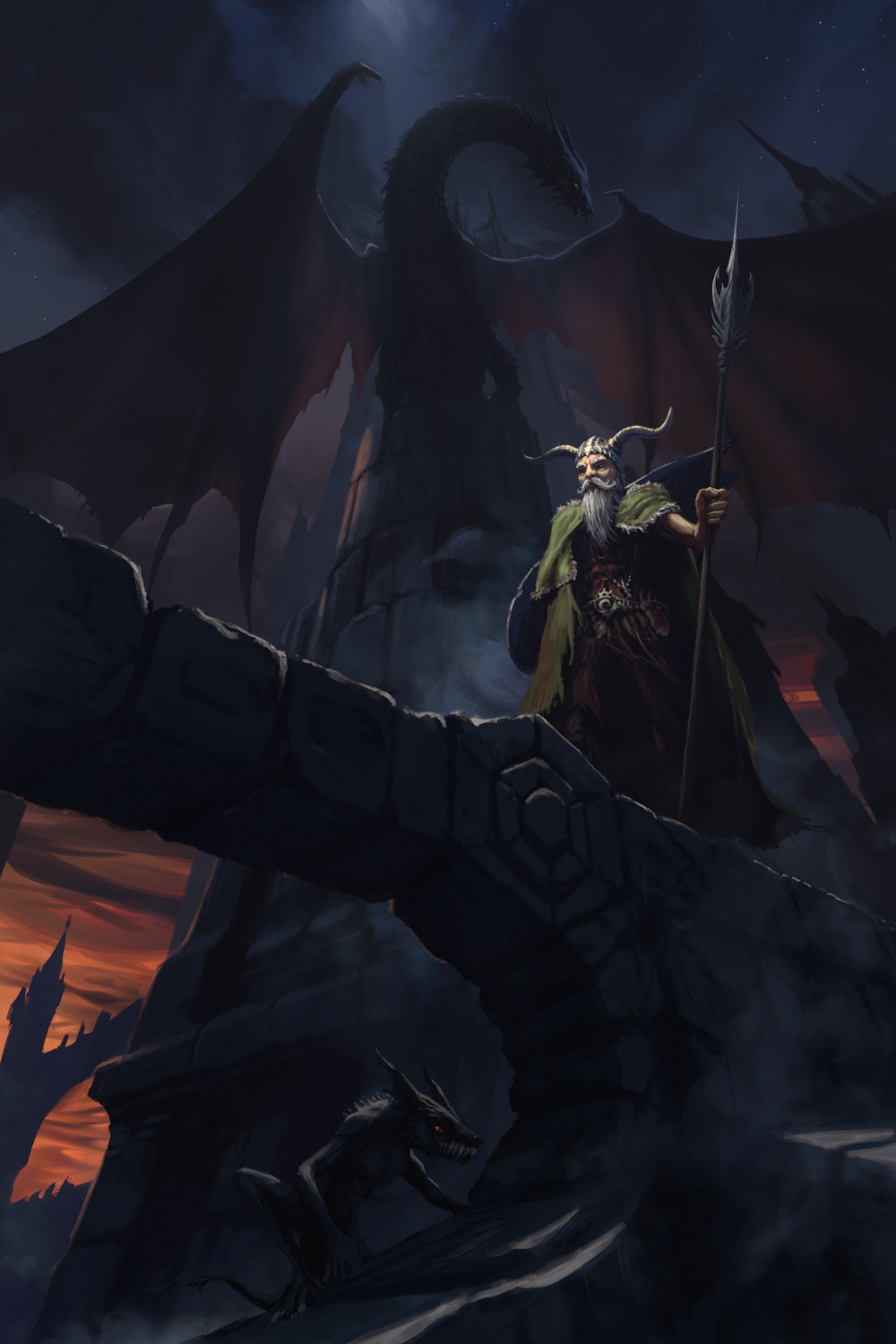 New Ubuntu animal, Focal Fossa, by Sylvia Ritter, also made with Krita: