With so much going on the libre graphics/audio etc. departments, we are now giving you weekly updates of the most important and bizarre things.
This week: new Krita fundraiser, new OpenShot and Shotcut releases, MuseScore resumes work on Jianpu notation system support, SolveSpace contributor releases a new online CAD built with Unity 3D, and more.
The Krita team started a fundraiser to squash as many bugs as possible and make the program more stable and polished. They've already raised ca. $13K and have been busy fixing bugs hand over fist. You can join the fun too.
MyPaint doesn't seem like a very active project these days, but there's a lot going on in its friendly fork by a new team member, Brien Diterle. We recommend following him on Twitter for updates. In a private conversation, Brien told us he's going to merge all his changes back to the upstream MyPaint project eventually.
Rotating hue by mixing in color from +60 degrees. Spirals towards a lovely grey mud. Remember the starting color so we can get home again. If I can mix from limited palette colors instead of +/-60 will have a real 3D @GurneyJourney gamut mask. @lgworld @MyPaintApp pic.twitter.com/tg1n0lNTFH

— Brien Dieterle (@BrienDieterle) September 20, 2018
The GIMP team has been mostly fixing bugs since 2.10.6 (released in August), but there are some interesting changes too. One of them is newly added perspective correction mode in the Measure tool (which got a Straghten option in 2.10.4). On top of that, both babl and GEGL libraries get their share of fixes and performance improvements. There is a certain way of thanking Øyvind Kolås for the latter.
Earlier in September, the Inkscape team did a hackfest in Germany and delivered some impressive improvements. You can read more about the results in our coverage of the event and in the official announcement.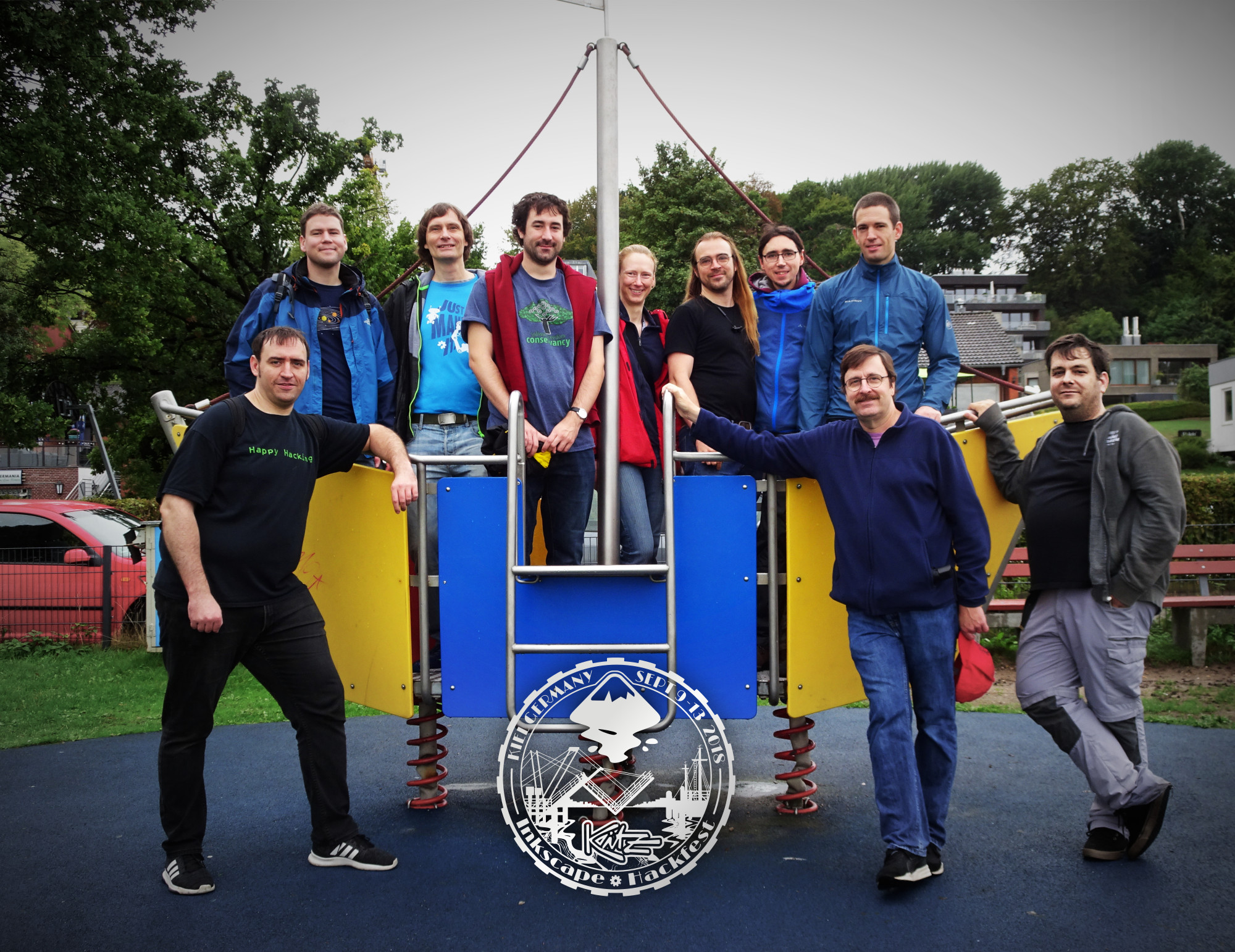 Blender Institute has completed the renovation of their new office in Amsterdam. They are also beginning an on-site training program.
Jonathan Thomas et al. released Openshot 2.4.3. The new version of the video editor intruduces support for images and videos as masks, improves threading to make effects crash less, and ships with a lot of bugfixes. See official announcement for more details.
Dan Dennedy released Shotcut v18.09 with much anticipated ripple editing mode, a timer video filter, and shaking presents for the Size and Position filter. Dan illustrated the usefulness of the latter with this tutorial:
Music and sound
FluidSynth has finally reached v2.0, with support for 24-bit sample soundfonts, polyphonic key pressure, seeking in the MIDI player, portamento/legato/breath control, on-demand sample loading, and a lot more. The full list of changes is available on GitHub.
VCV Rack announced that Macro Oscillator 2 (based on Mutable Instruments Plaits) is now open-source (the 3-Clause BSD license) and avialable on GitHub. To update your existing patches, use the utility in the Audible Instruments Preview manual.
The MuseScore team pointed out that there is ongoing work on adding support for the Chinese numbered musical notation system called Jianpu.
Meanwhile, part of the MuseScore team will in Paris on September 28, at the 5th International Conference on Digital Libraries for Musicology, talking about their side project called OpenScore.
Alexey Egorov, former contributor to SolveSpace, announced his new pet project called NoteCAD — a free/libre online CAD (the code is on GitHub) streamlined for producing STL files. There's a long thread in Russian on linux.org.ru where people mostly contemplate the fate of libre projects built with proprietary Unity 3D, which is exactly what NoteCAD is.
Andrew Mustun released an update of QCad. The community edition features a handful of improvements like a "Scale" property for angle dimensions and arc length dimensions, and the Pro version now features support for overlays.
Urban Bruhin posted an update on recent changes in LibrePCB, a new EDA tool he's beenm working on for the past few years. Urban says he improved the PCB fabrication output generator, implemented airwires support and the placement of NPTH drills on boards, started bundling fonts used in schematics, and there's a lot more. He's getting close to releasing 0.1, the first public version of the program.
New 2D template!, now is more easy than ever start to draw pic.twitter.com/Zswe3pJdCm

— Daniel Martínez Lara 🔶 (@_pepeland_) September 19, 2018
New production technique video on Blender Cloud! @artificial3d showcases the hair dynamics setup for the Spring open movie character. #b3d https://t.co/kNJuPW4lKE pic.twitter.com/zbP2Erk0J3

— Blender Studio 🔶 (@BlenderStudio_) September 13, 2018