David, perhaps most readers know you as concept artist and art director for "Sintel" short animation movie. But surely that wasn't your first project. Could you tell us a bit more about yourself, about your background?
Hi Alexandre, I'm a 29 years old freelancer who works mainly remotely from his home studio in Toulouse (France) as an illustrator and concept artist. You can see my art in French book stores or find a board/card games I fully illustrated, because I'm a prolific artist.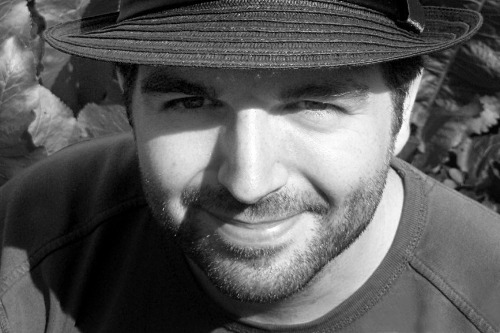 Nowadays I use only Free/Libre Open Source Software on a Linux system (even though I master and teach Photoshop and Painter in a high school), because I like this social and cultural revolution around the "Free/Libre" software. Sintel is my first project as an art director, and believe me: working on a open project like this with this position was a dream for a "libre artist" like me.
Not many people, perhaps, can say that they woke up one fine morning and thought to themselves: "Hey, I think I wanna be an artist" and then go and really become an artist. People rather grow into decisions like that. How did it happen to you?
I think I wanted to stick seriously with the idea to become an artist when I was 12 years old or so. It sounds like an early age for a life choice, but I felt really too seriously concerned by the question of adults around me: "What do you want to do in the future?". I had to find a quick and definitive solution to answer this. As I was a young geek creative boy, I decided to be a comics author. Comics seemed to me the most full art, and I started to work hard at my drawing skill. But my own comics, while I was teenager, were mostly only made with the part of the "concept-art dossier", not so much of real story pages. Designing all characters, scenes, clothes… a universe was a real passion for me. That's how I discovered I would love the work of concept artist and illustrator, and even more — art director, that would include a bit of everything I loved doing.
You seem to be holding a soft spot for fantasy themes in your works :) Do you have some particular favourite writers?
This fantasy thing didn't come from books. It came from one of my first artistic loves (very young) — the video games "Secret of Mana" on the Nintendo's "Super Famicom/SNES", and the "Final Fantasy" series. Now, things evolved a bit: I read more comics books. For example, Terry Pratchett became my favourite fantasy author.
As far as I can tell the huge interest to MyPaint these days has a lot to do with your well-known Sintel concept art timelapse you published a year ago. Quite a bit of your feature requests were met in v0.8.0, and your brushset is now used in the application by default. Do you keep interacting with developers? On what levels?
For the moment I keep interacting with the developers of MyPaint and Krita. Mainly because I compile both projects from the source code repository frequently, so it's more evident for me to see what is done and how things are shaping up. As for GIMP, as I use it daily in freelancing as my main painting tool, but I'm a bit more "cold" to test the unstable/development version like I do with MyPaint and Krita. That's why I'm probably looking not so close to GIMP development (but in fact I feel really concerned by the future 2.8).

As for interaction with the projects, I'm not that active, I'm more a reader of mailing lists, IRCs, forums, wikis. I'm just a simple user, I try to help as much I can, when I can or have time. Sometimes I interact to ask for help when everything crashes, sometimes to say "Good job!", sometimes to ask for a feature or a fix (I try to explain it the best with a PDF or a picture to waste the less the developers time). I have increasingly friendly virtual relations with many developers and I'm really happy of it. I really appreciate all the hard work they do on software in their spare time; they are real artists!
One thing that was quite notable in the timelapse was your use of Al.chemy which is quite experimental software in a way that it allows doing really unusual things. But experimental software, while triggering clever ideas and making brain sparkle, often stays experimental and most users stick to "traditional" tools. Do you think Al.chemy has a chance to win hearts of millions of users? Or maybe it doesn't need to?
I'm generally thinking that digital tools as Al.chemy are better for digital art than tools that want to mimic too much traditional effect (as watercolor diffusion of pigment or oil greasy impasto bump). But the digital and experimental feeling in Al.chemy is a bit extreme too.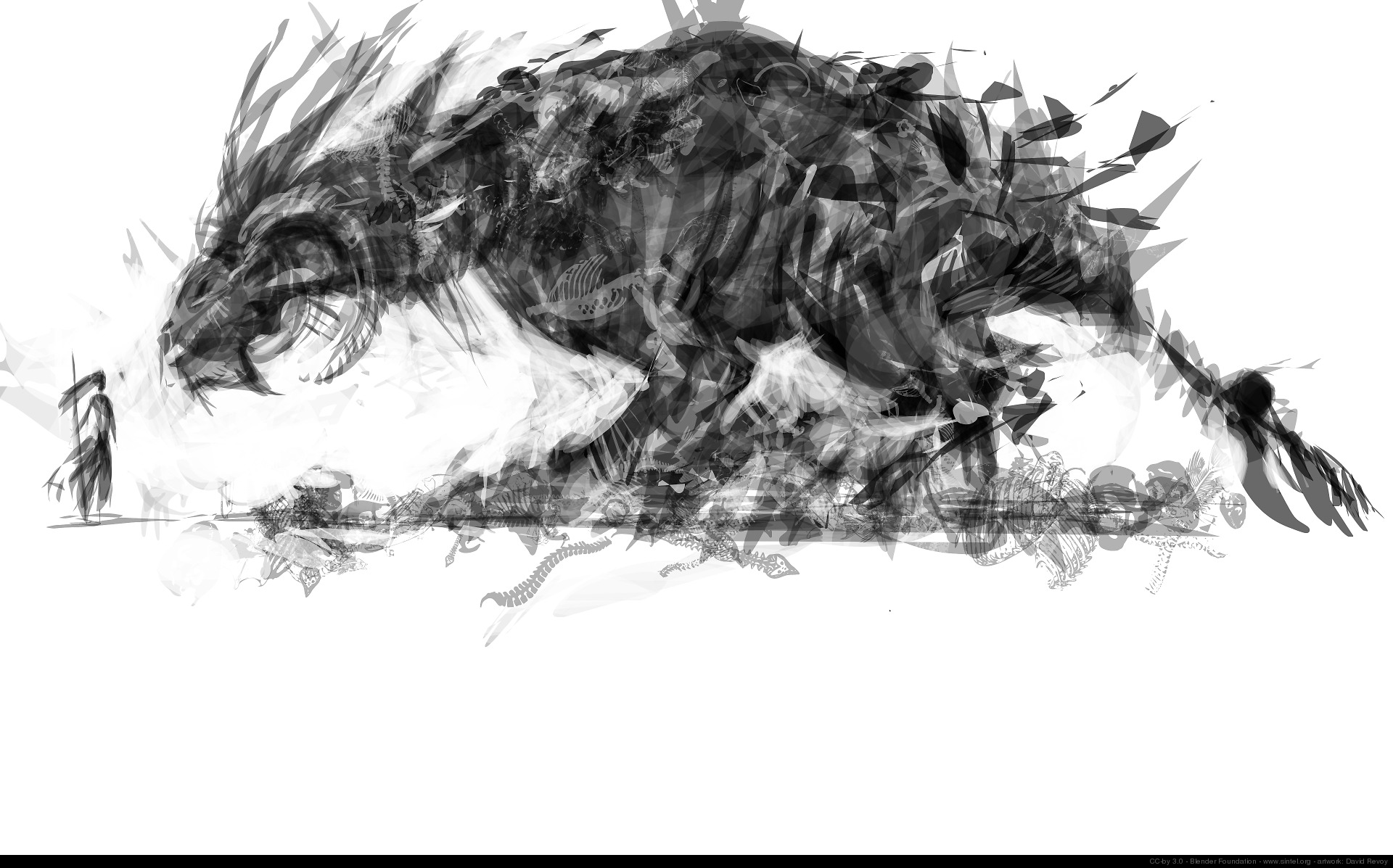 I'm sure other software dedicated to digital painting will surely absorb the interesting concept/features of Al.chemy (e.g. dynamic symmetric already appeared in Autodesk SketchBook). Al.chemy will certainly continue its way towards its original destination: Video DJ and other experimental art projects. Software like Al.chemy is in fact a really cool laboratory of ideas for other applications.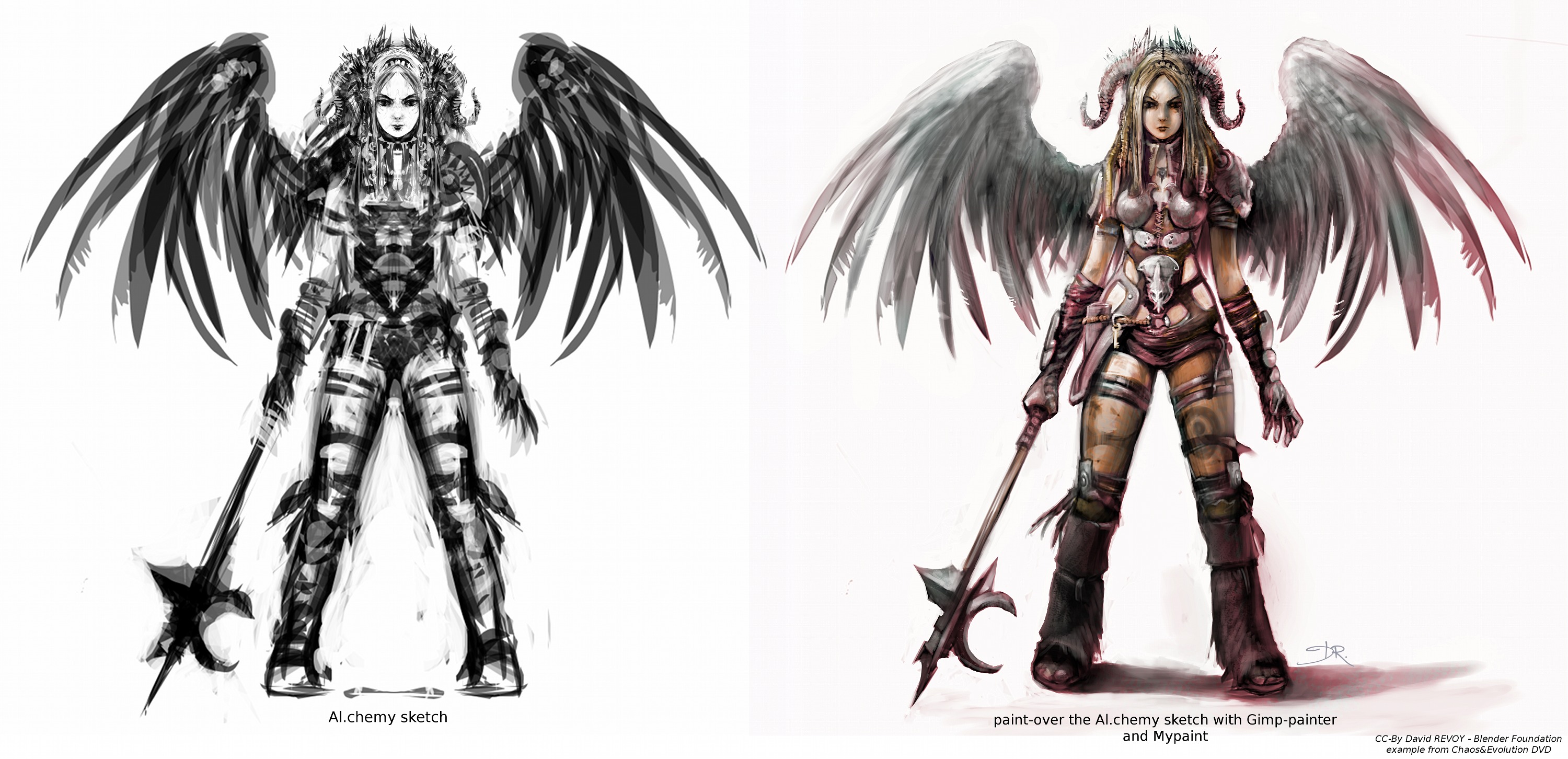 Speaking of the whole ecosystem of free/libre creative applications, what do you find most missing as an artist? What "low-hanging fruits" could make your work noticeably easier? What inter-project (as in software projects) activities could benefit the whole community?
The "low-hanging fruit: is certainly the performance of the painting/drawing feeling in hi-resolution in free/libre creative 2D applications. Many digital painters are used to paint using sometimes large bitmap brush mask (more than a 512×512px) on a large workspace digital sheet (+6000×6000px) and use many layers with various blending modes. This is still very slow even on modern computers with free/libre creative 2D applications. The optimization of the resources/performance are really the central point for attracting professional digital painters, in my opinion.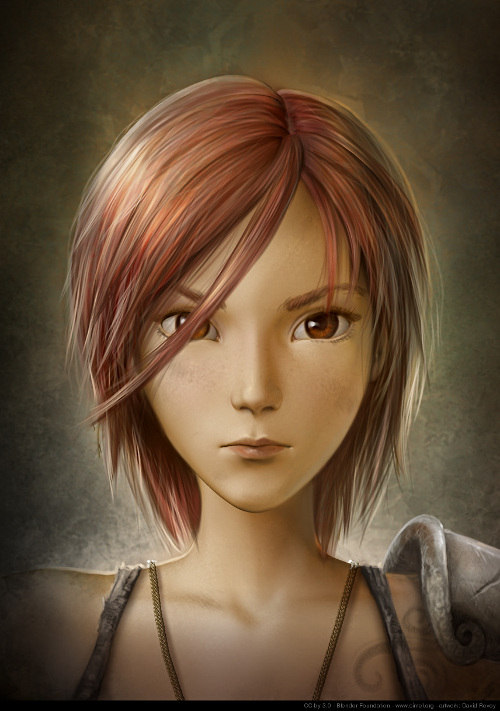 So, "Sintel". How did you become part of the Durian project team?
I sent my portfolio when  the Blender Foundation was looking for an artist for Big Buck Bunny. I was selected as a 'spare artist' with Colin Levy (Sintel director) at the moment. Some years after that in 2009, while I was teaching digital painting at the high School Albert Jacquard , I received an email from Ton Roosendaal (creator of Blender and chairman of the Blender Foundation) inviting me for the position of art director for the project Durian (Sintel). A dream came true!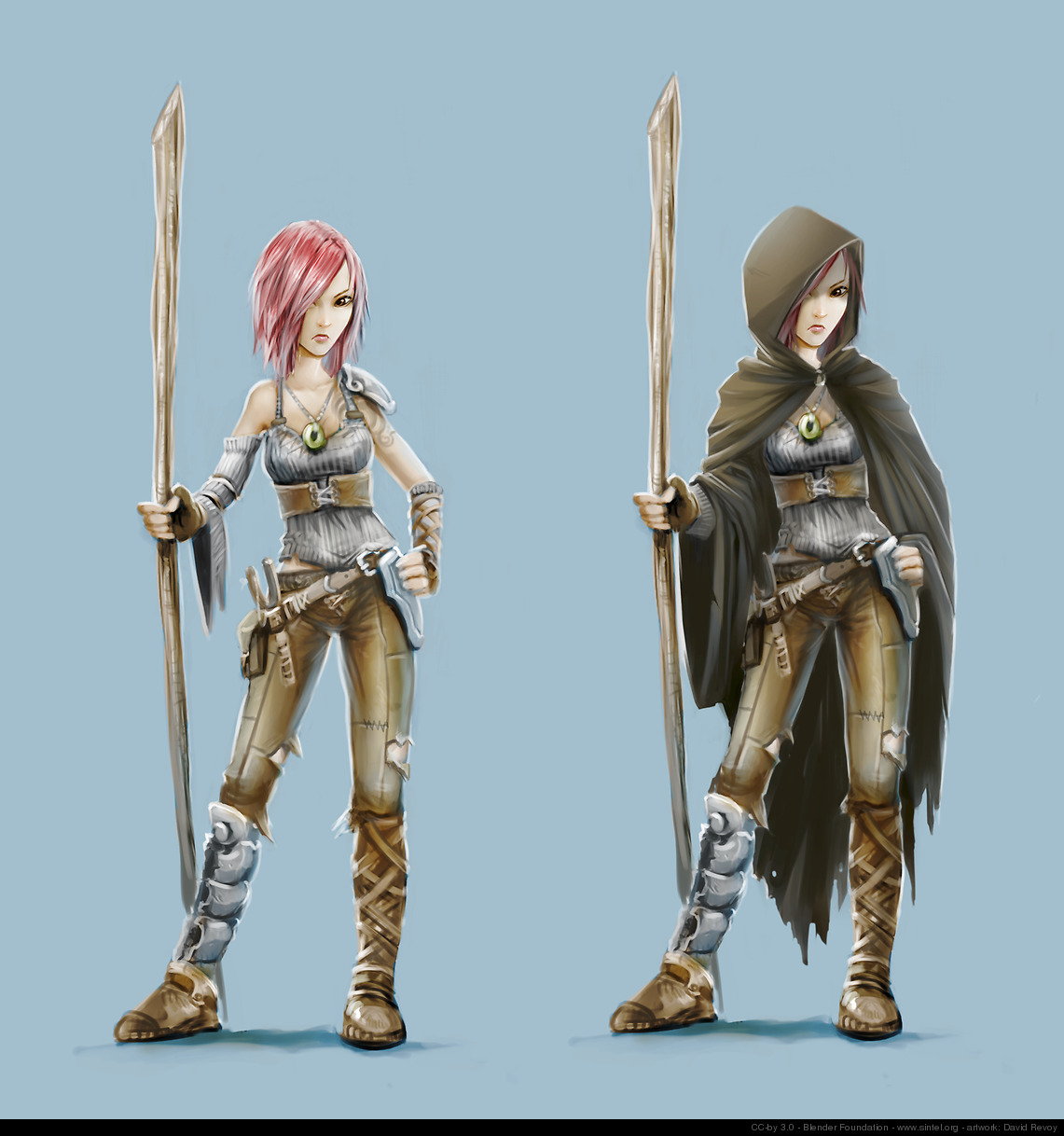 Your artistic style seems to be considerably affected by the story of Sintel. Whereas your previous works that I've seen are what I would ignorantly define as cheerful, "Sintel" is a drift to a much darker, if not gloomier style. Was this a new experience to you, or are you actually used to changing style freely?
I'm used to change my own style freely. I can show you as example 3 distinct boardgames I illustrated by the past : 1, 2, 3. In "Sintel" I created all the design for the taste of the team. Each one of the Durianers could interact about the characters, and it was a wonderful laboratory of ideas sharing and tastes. The process even resulted in a total "design study", and I could discover many more of my capabilities to change my own style freely.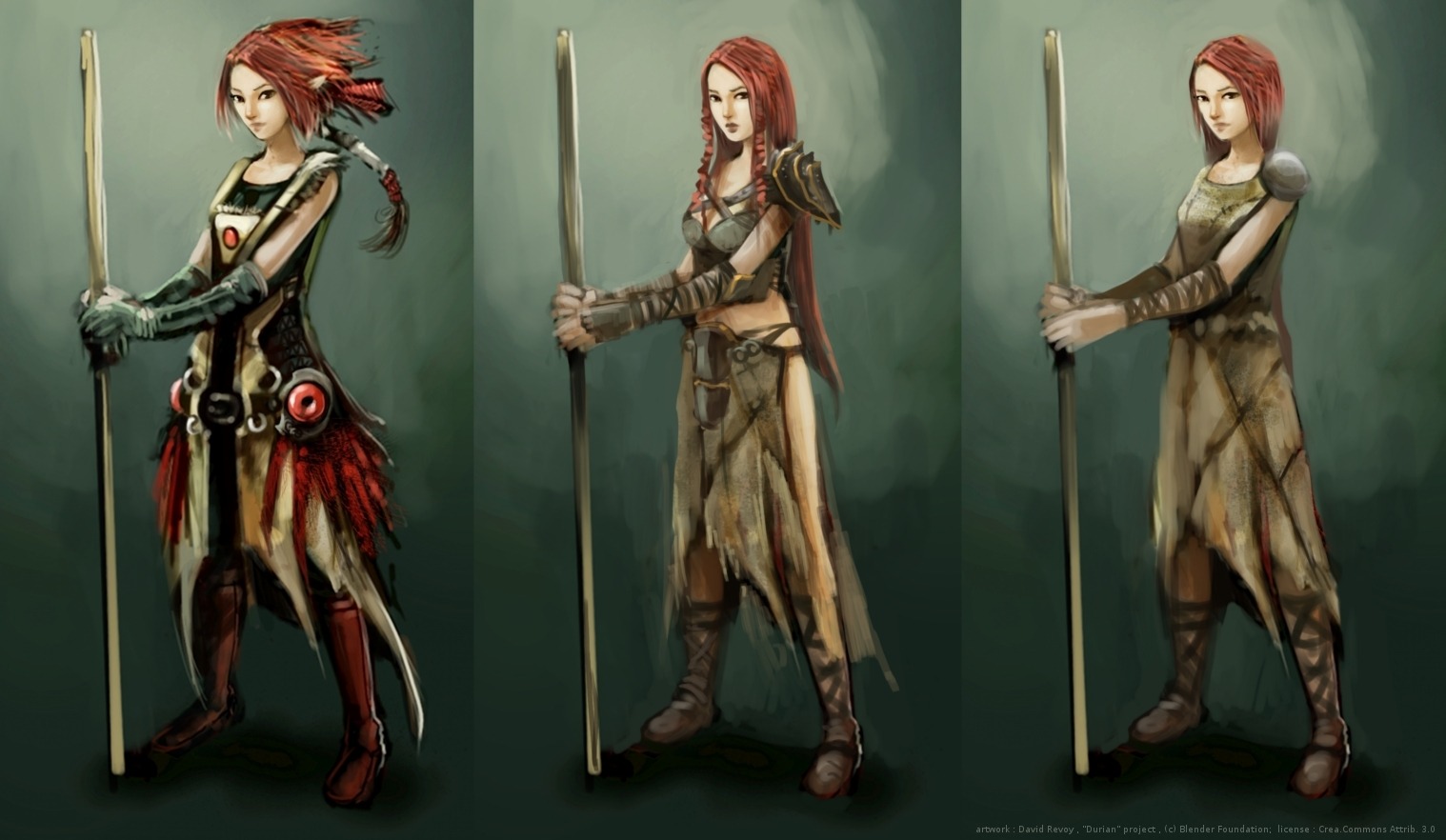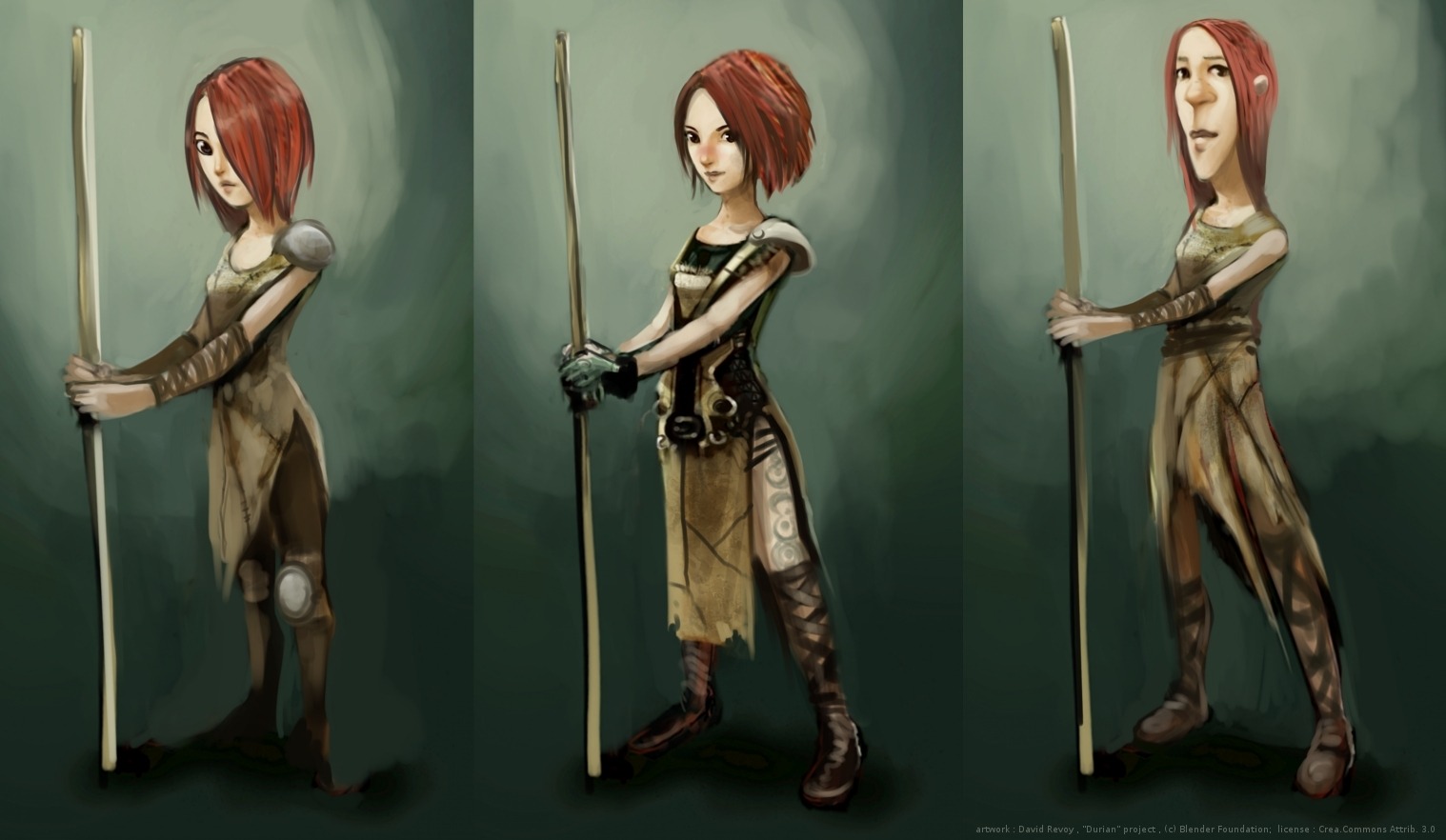 Now, the "Sintel style" is one of my new experiments, a style at the cross of the anime, the U.S. comics, the European comics, and the cartoon — an explosive mix I'm proud to add to my own style collection.
If I got it right, you did all concept art with just free tools — Al.chemy, MyPaint, GIMP. What is your impression of using them while working on deadlines? Are they reliable for professional use?
The workflow of Gimp-painter 2.6.8 and MyPaint (weekly build of the Git 'master' ) under Linux Mint is really stable, and I can trust it when I have deadlines approaching. In my experience, they are more stable than Adobe Photoshop CS2 and Corel Painter XI.5 on Windows XP Pro SP3 (my old workflow). In that way, they are really professional. I can't remember a single crash or freeze or a losing data in the last months. All my work can be done from A to Z without a bad surprise in the middle. Good job to the developers, 'cause that's really professional.
What was most challenging for you in this project?
"Sintel" is my first project as an art-director. Art-direction must involve a lot of communication with the team, and during "Sintel" I couldn't stay all the production time in the studio.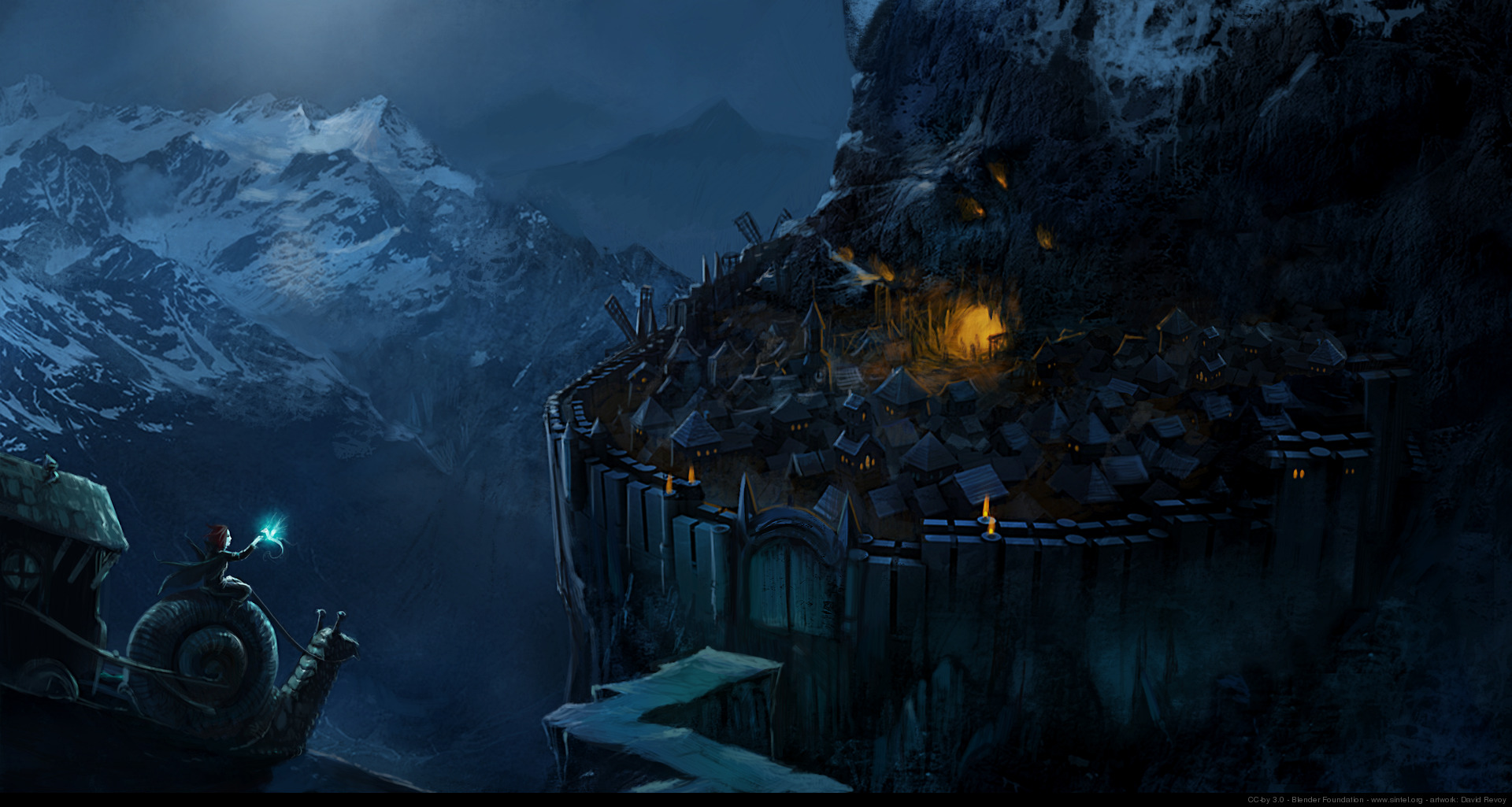 I worked full time in Amsterdam as a salary worker from August to November 2009 on concept art, while Colin Levy (director) worked with Esther Wouda (screenplay writer). Unfortunately because of the too long story process and continuous rewriting during the pre-production I had less time than I expected to do digital painting of all the definitive concept art in the movie.
Spending a lot of time trying to stick to the story writing process caused also a lot of rejected artworks, but also a lot of very rich experimentations. At the end, I'm really happy with this challenge, because it helped me to develop faster a lot of ideas, and develop a solid speed-painting style in a friendly collaborative environment.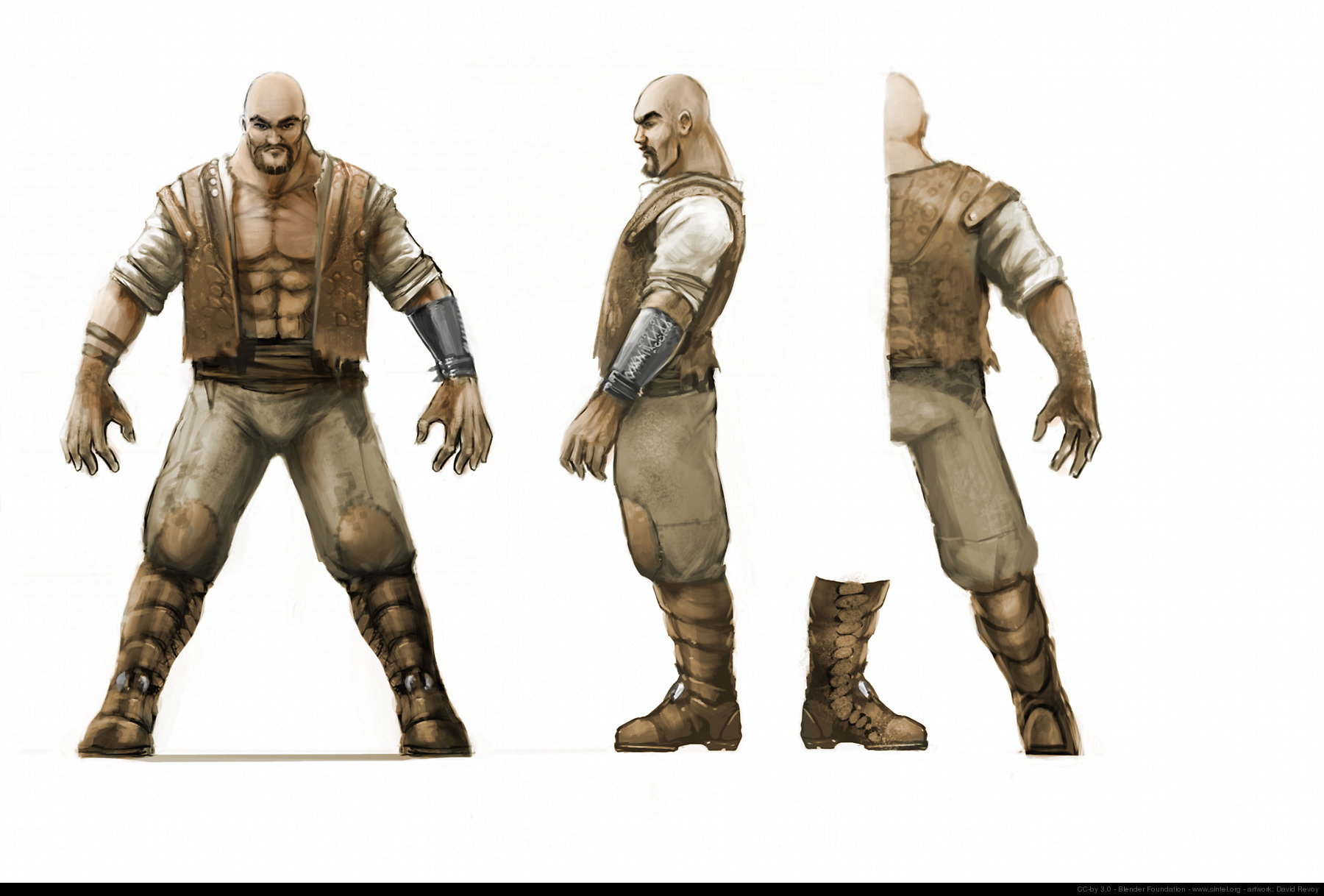 The other main challenge after the pre-production period was to keep my art-direction advises remotely while working on the DVD tutorial "Chaos & Evolutions" and maintaining my freelance activities.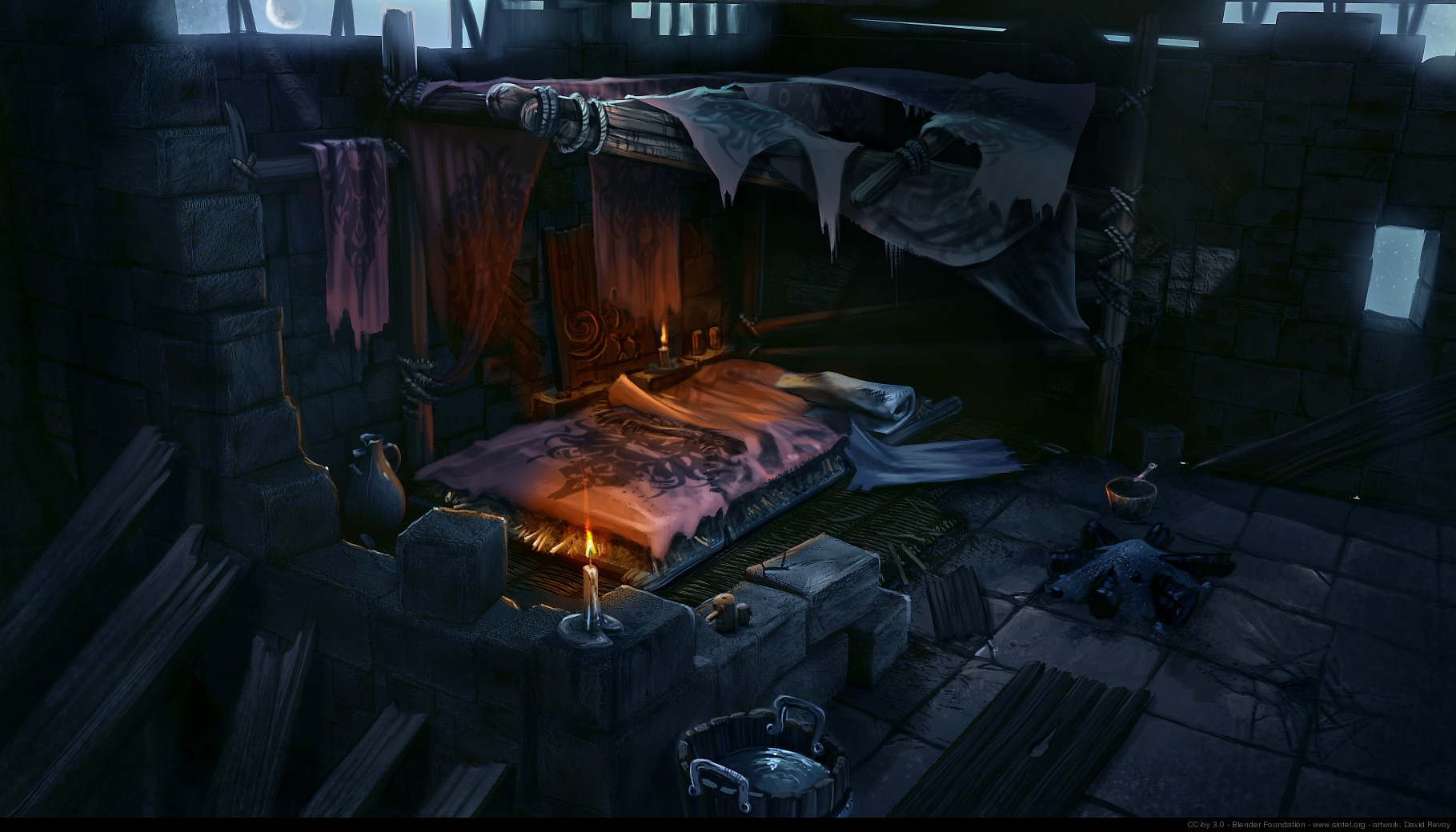 I spent all my extra-time as a volunteer to help the Sintel project. E-mails, IRC and a lots of paint-overs were my tools. The team did a fantastic job, and many other volunteers added precious help to the project. Thanks to all!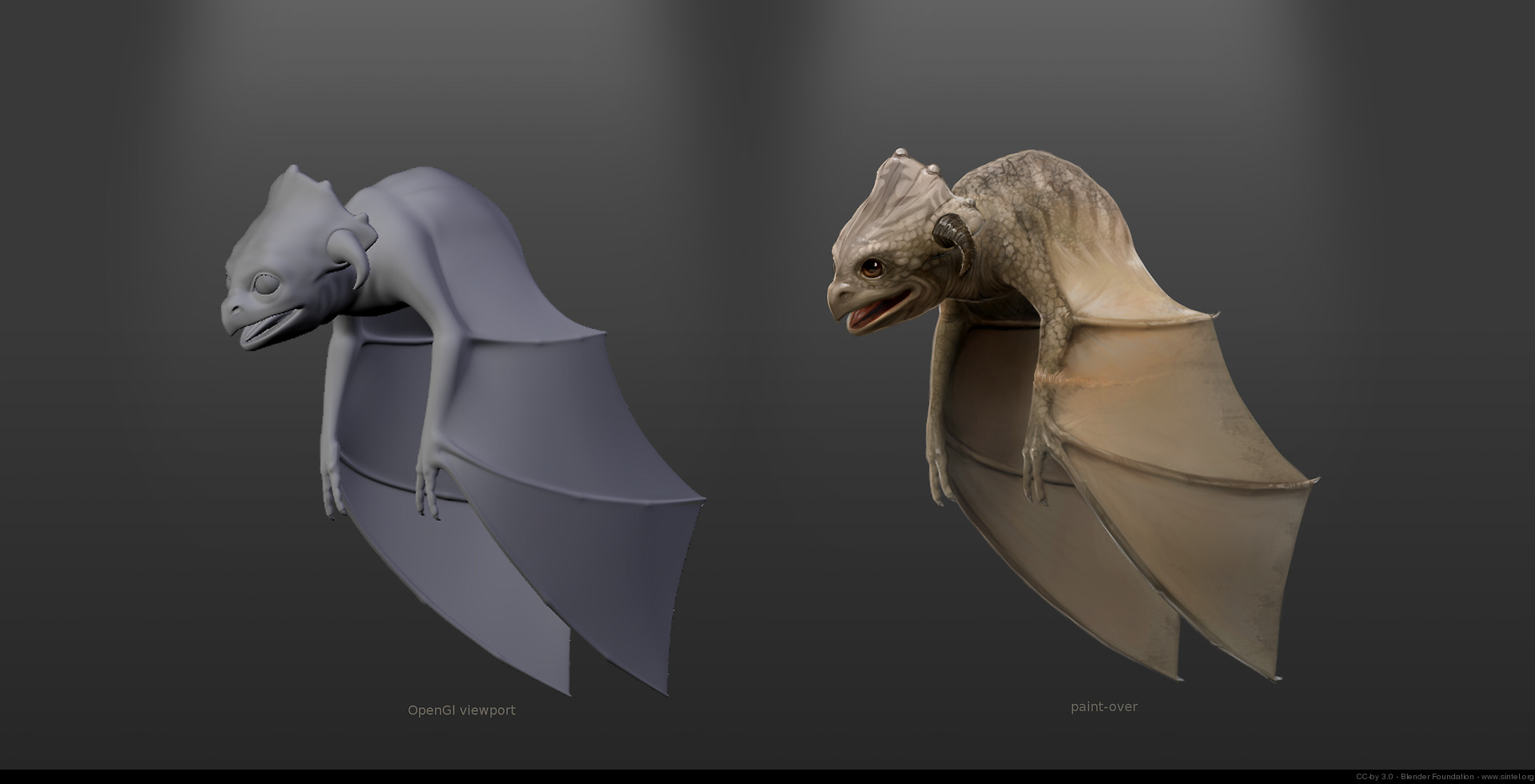 During creative process many ideas get a chance of life, while a concept is shaping up, but only one idea survives, the rest go elsewhere (like the interesting idea of the Shiva-like shaman). Did you ever revisit any old abandoned sketches to find out whether some of them could tell a new independent story?
Funny you should mention this Shiva-like shaman, because it's exactly the kind of design I would be tempted to re-use in one of my future project.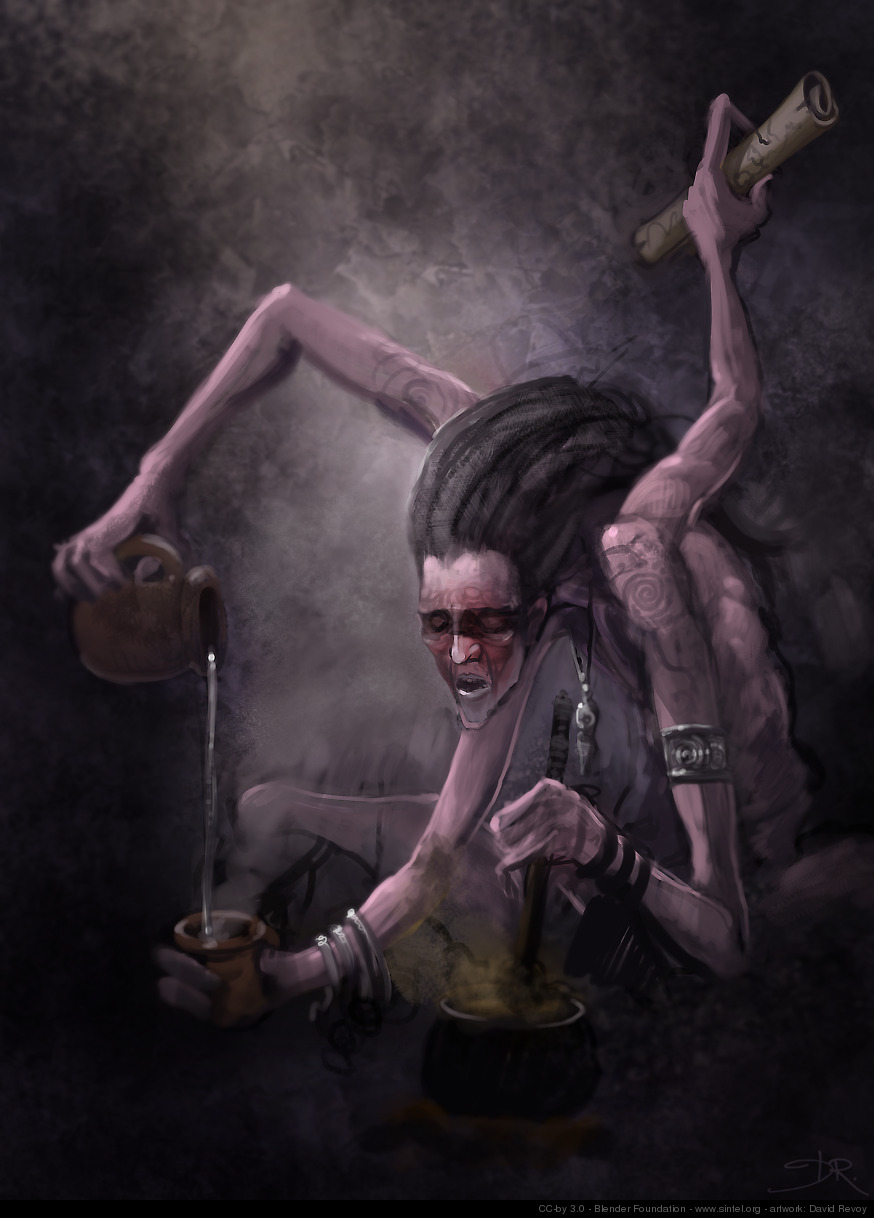 With my young experience I'm not used yet to have abandoned sketches that would really be worth being reused. I will see what will happen in future with this interesting one.
The Blender Institutes's DVD with your video course is in sale for months now. I heard most favourable opinions about it. Looking back at that work, what do you think could become its natural continuation?
Many thanks to all this favourable criticism. I really like to read about users feedback of my DVD. Talking about continuation… I designed "Chaos & Evolutions" to be independent of the software used. The content inside is more a method and my philosophy of approaching my job and art. I really hope this content will survive time. I would be very happy to still see in years theses videos on various Forums and Wikis as reference. The CC-By license was a conscious choice targeting this.
Last, but not least. What project are you working at now or what projects are you up to?
As a freelancer, I still wait for my next "big" project. "Sintel" will be released on Internet tomorrow at the time I write this, and I won few month ago the first digital painting "CG Choice Award" done with 100% FLOSS on Cgsociety with "Alice in Wonderland". A lot of possibilities are open!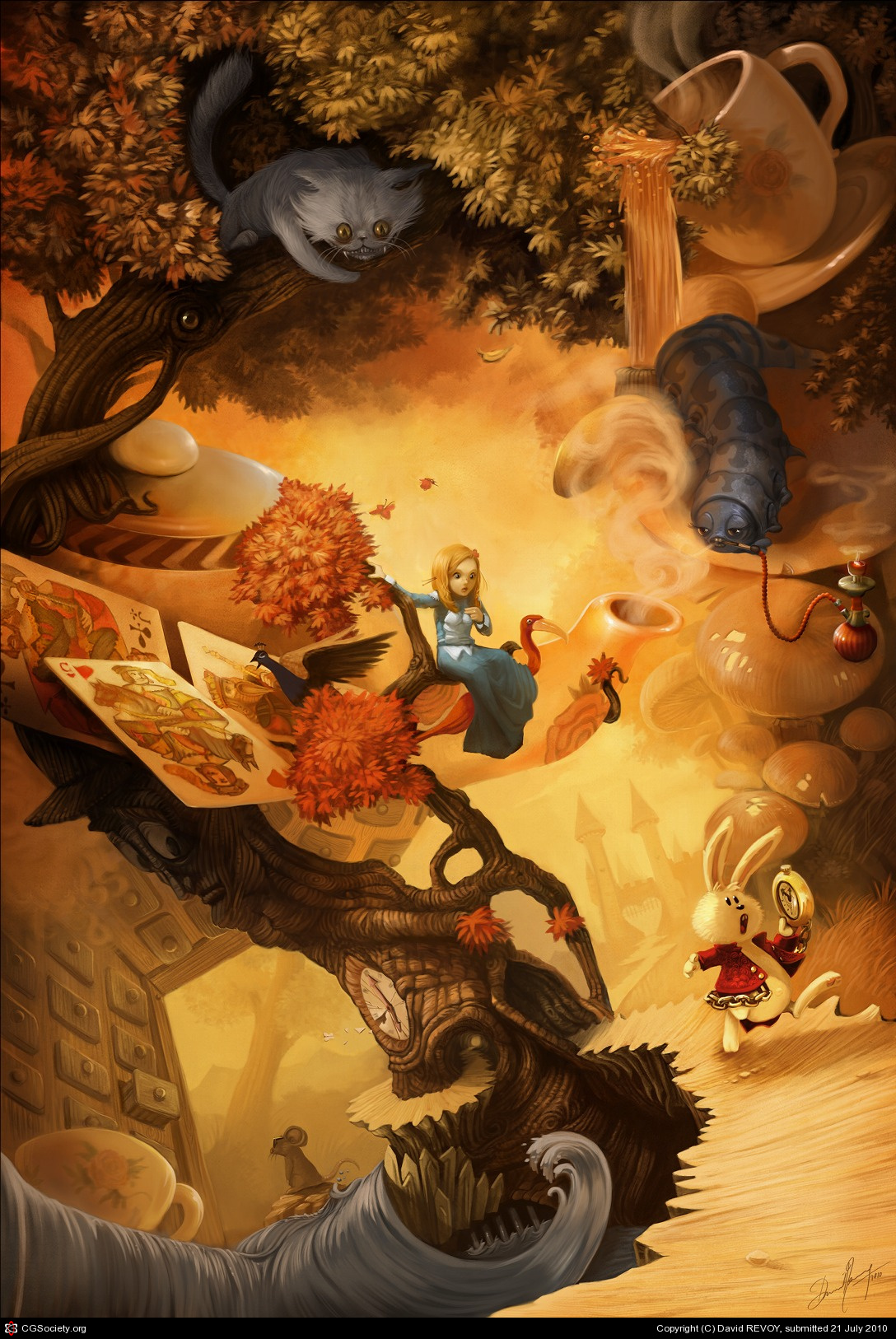 Thank you for reading, and thanks, Alexandre.
---
Main:
Software:
Other:
---
David was interviewed by: Alexandre Prokoudine
License for text: CC BY SA 3.0
All pictures by: David Revoy