Valentina / Inkscape

Showcases

/

Design

/

Interviews
Revolutionizing garment-making in Italy with Valentina
by Alexandre Prokoudine
Here is a tailor shop in Sicily actively using Valentina for pattern design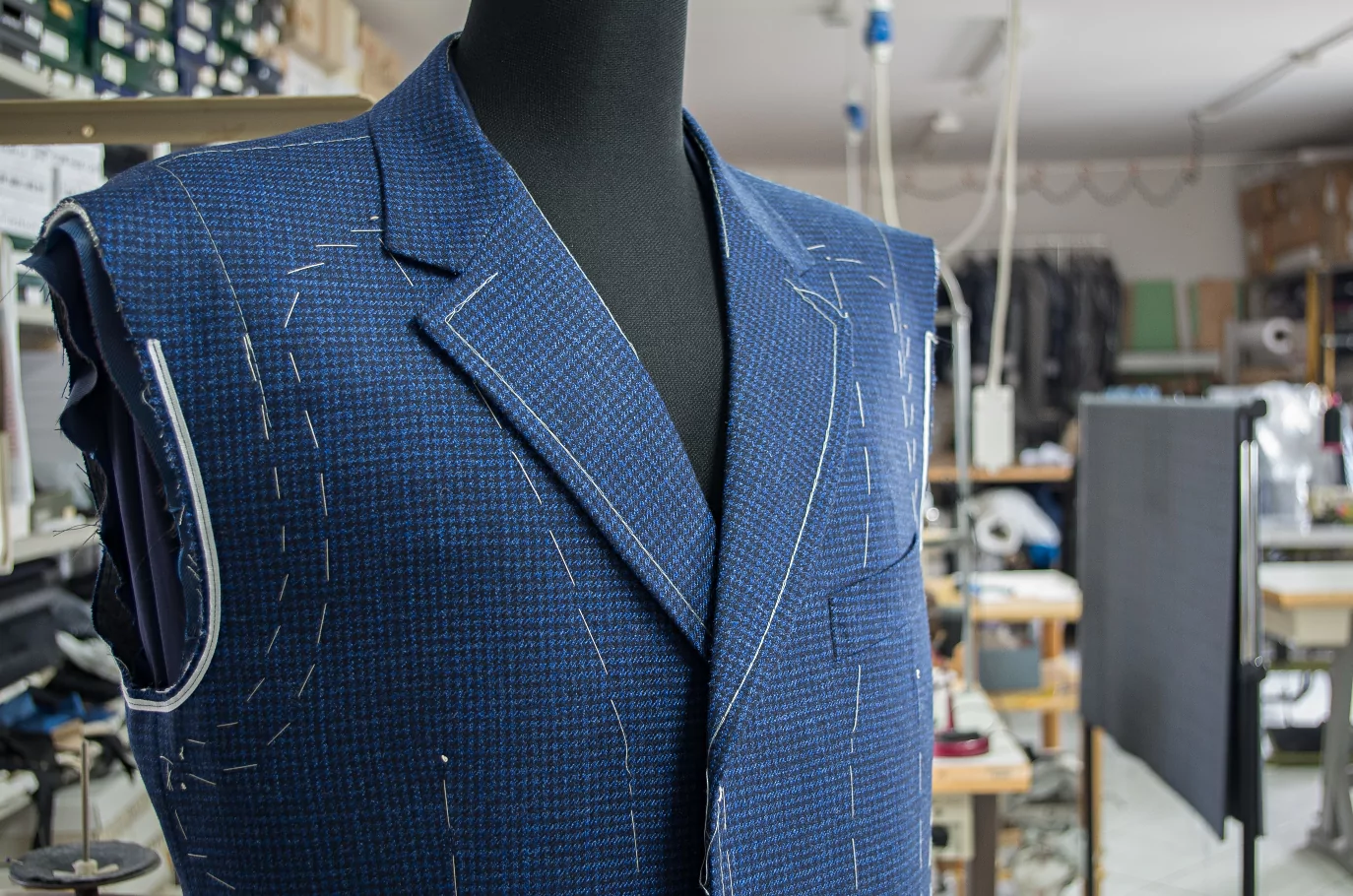 One of the benefits of working on Libre Arts is that people come and tell me about interesting things they do. So recently, I spoke to Luca Lavore who works with his father in their family tailor shop of 30 years in Palermo district, on the beautiful Italian island Sicily. And they are big on using free/libre program Valentina for pattern design.
Luca, when you first contacted me, you said you were ready to tell the world that Valentina could be the real fashion revolution. What kind of struggles did you have as a clothing brand / business that led you to believe a revolution needs to happen?
In 2016, I started to collaborate with my father in our family tailor shop. Despite our workflow was already oriented at lean manufacturing processes (rather than traditional conservative tailoring), the main phase which is pattern making couldn't be made with computer aided design tools due to the huge cost of those applications and the willing of software houses to never adapt their offer to small artisans.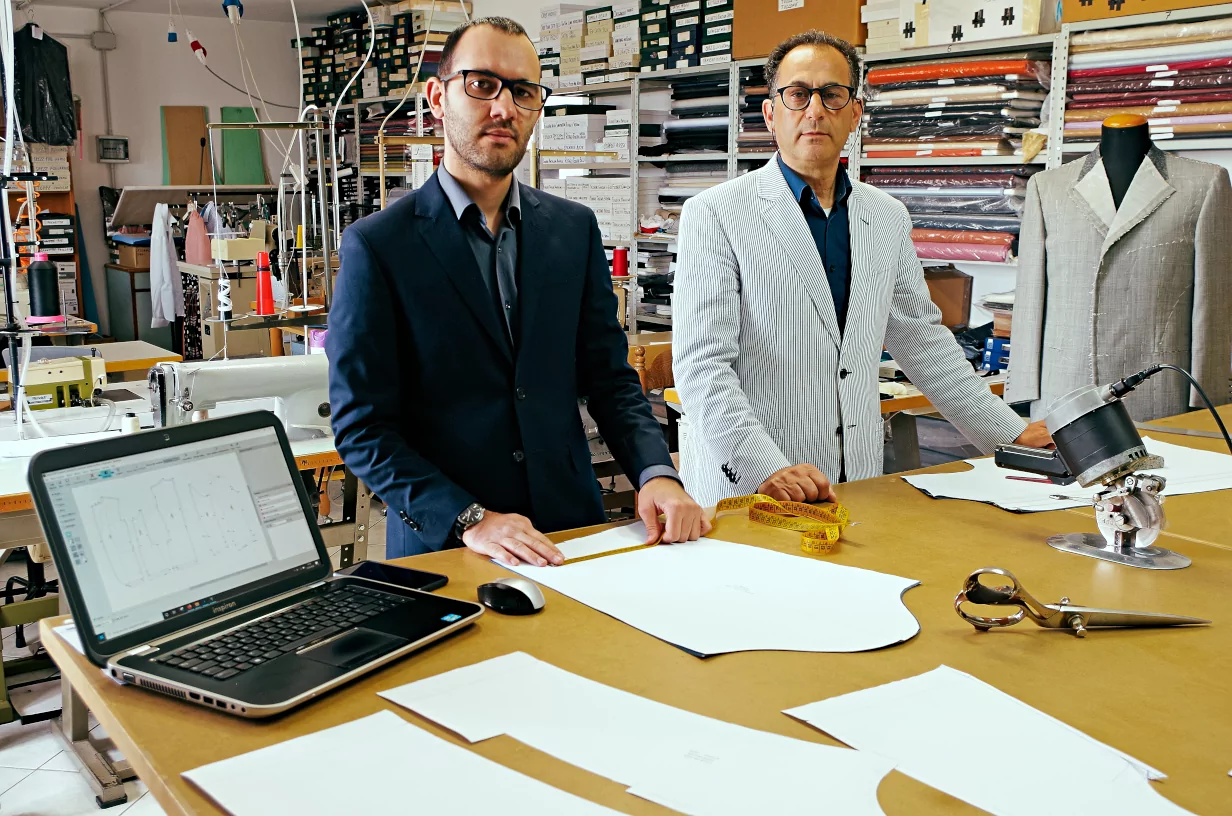 This was, and still is, the main time-wasting cause in pattern/cut process for a bespoke or made-to-measure garment. When I discovered Valentina in late 2018 (thanks to a course made by Sara Savian of WeMake Milan, in Italy), I suddenly understood the huge power of that software, for its nature of free/open source and parametric software. A pioneering project that embraced the power of mathematic functions applied to pattern drafting, totally free; I couldn't have asked for more.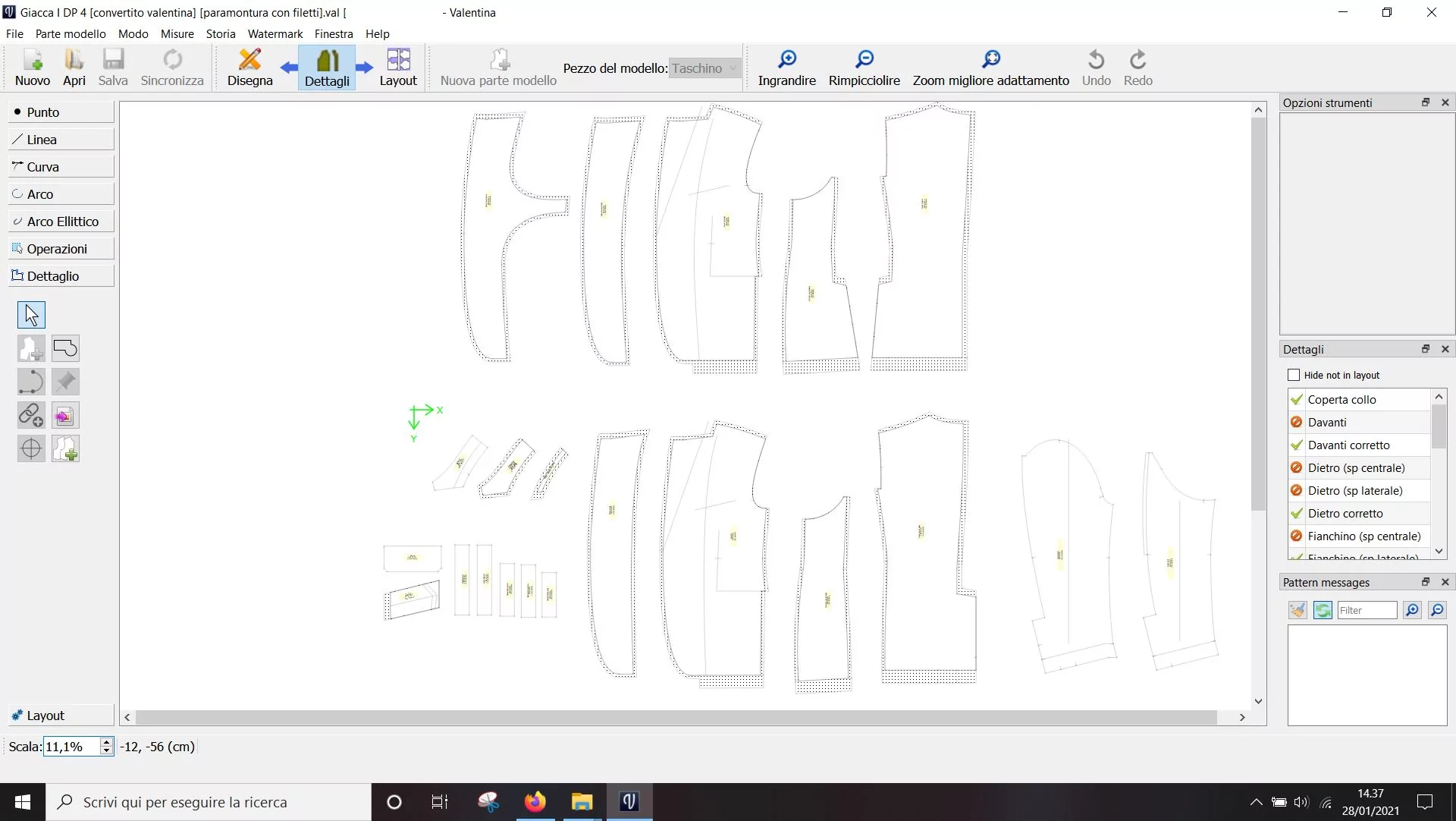 When you say "lean manufacturing processes", what does that mean? I'm familiar with that term for factories, which typically means little-to-zero waste, but not sure about tailor shops.
Traditional tailoring maintains practices and methods invented 200 years ago (or more). Drafting with chalk directly on the fabric, a lot of basting stitches, undefined seam allowances, undefined patterns, three fittings with customer, and many more…
We worked a lot to take inspiration from factories' best practices and bring them into bespoke tailoring. We bring this pattern method to perfection using specific industrial machines and organizing our laboratory with a proper logic. And recently, with the use of CAD tools.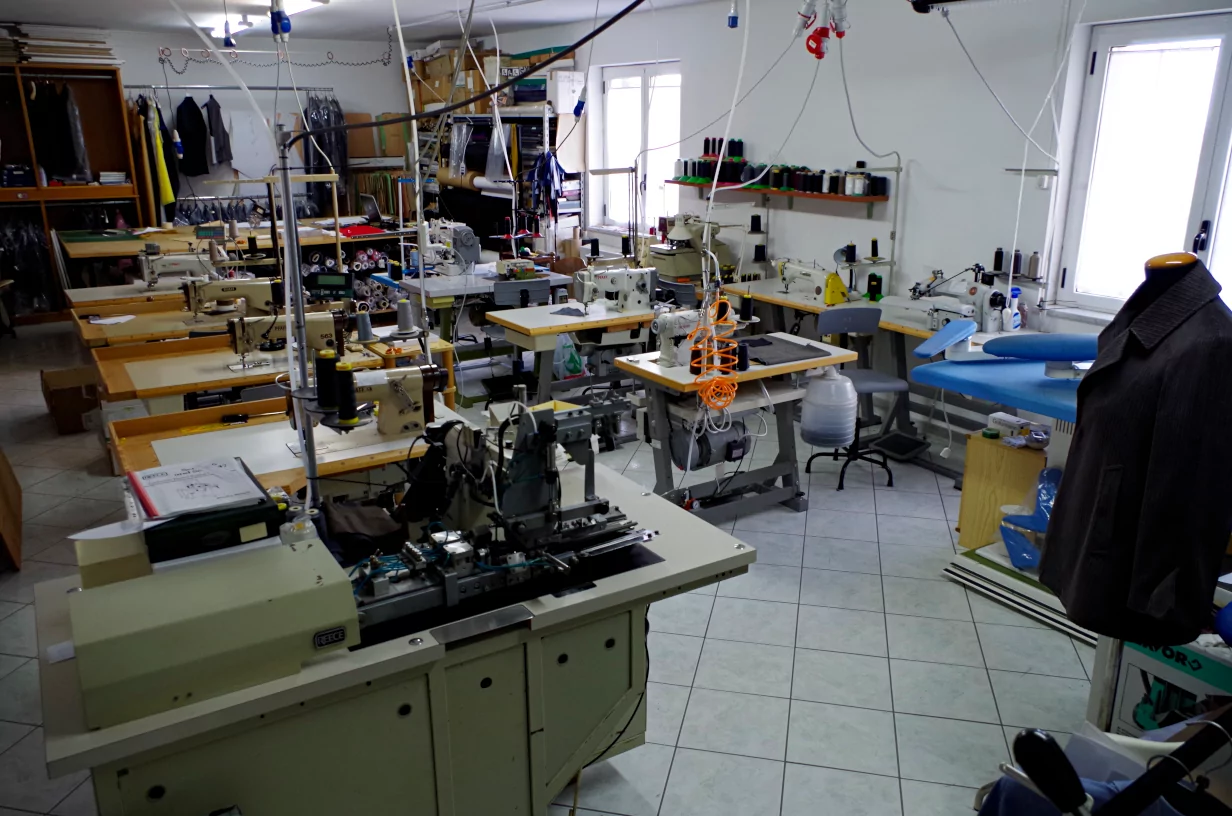 When did you start evaluating Valentina?
At first, I approached Seamly2D, soon after the split between original project founders. I decided to go on with Valentina project because it is way more responsive to pattern-makers' requests and suggestions. Now my role is to translate the software in Italian, to manage the Facebook group, and I'm constantly in touch with programmers to give them feedback and advice.
Why do you think Valentina is the real solution to the struggles you had?
If you are a small artisan, or a young student, or an enthusiast about sewing, before Valentina came about, you had only one choice: spend a huge amount of money and time to learn expensive and non-intuitive software designed for big factories.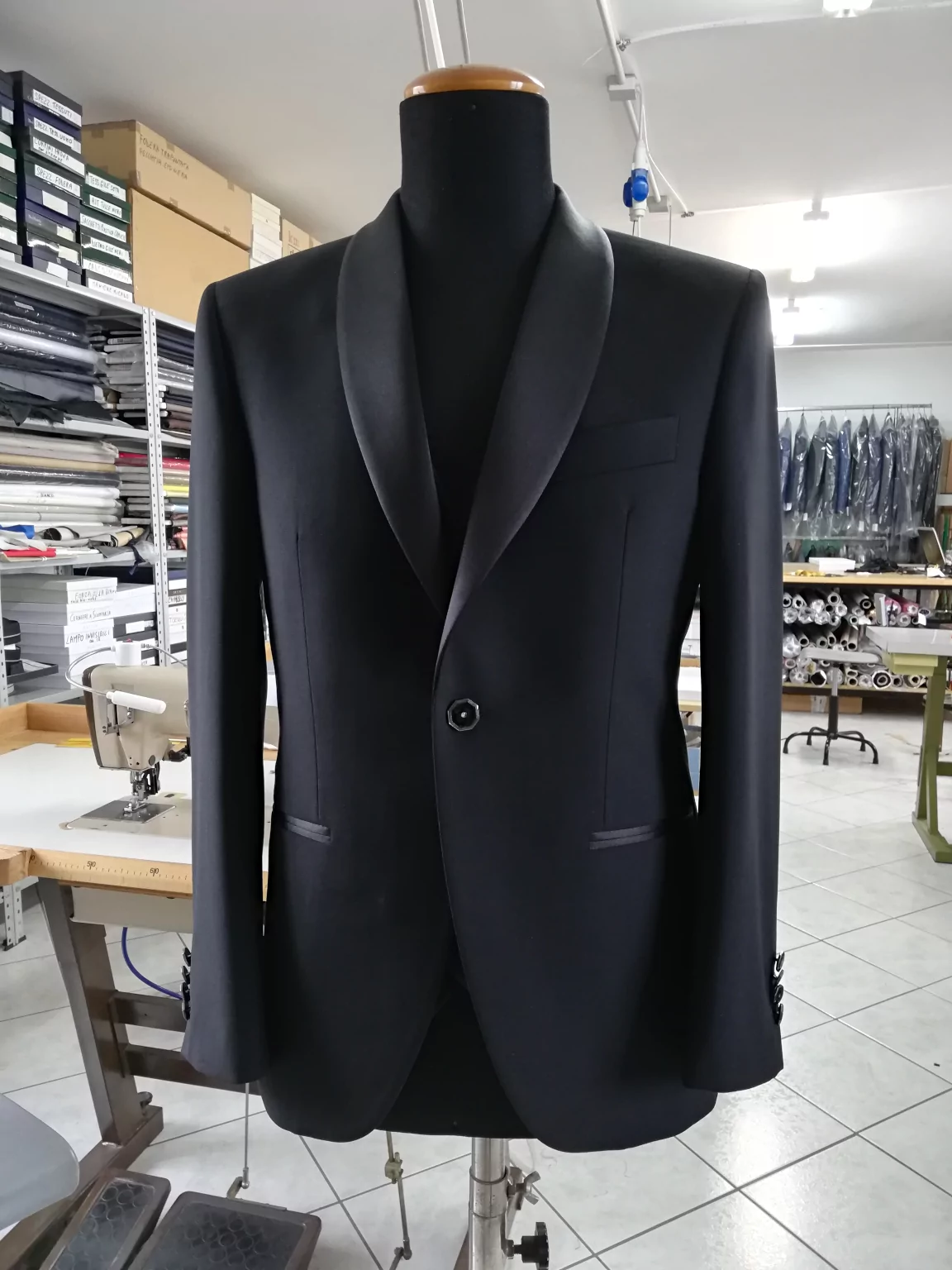 For shops that already use proprietary software, what do you think could be the benefits of switching to Valentina apart from the price tag and maybe availability of localization?
I couldn't suggest switching to Valentina to factories, because they already rely on existing CAD and CAM systems that have multiple tools in their suites that allow to manage production from sketches to cutting with automatic machines.
The best way they can use Valentina is for a quick patterns making to export in DXF and import to corporate software, or to benefit from parametric design in Valentina to better approximation of grading instead of the "X/Y coordinates" one.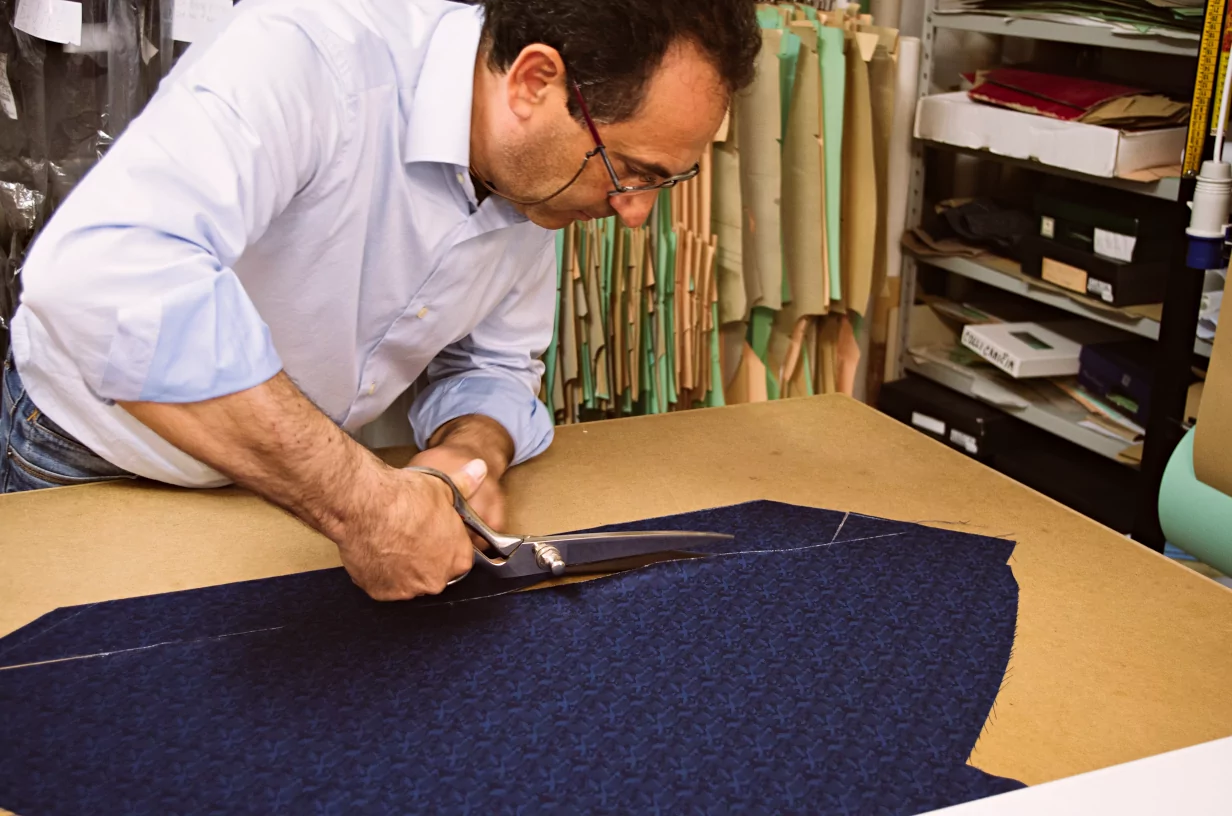 A professional pattern-maker I know, who is based in Turin and is owner of his own pattern books and method, uses the software just for testing the parametric functioning of his models, before to output them in Investronica software.
Those whom I recommend to take Valentina seriously are teachers, students, freelance designers, and small clothing production companies that want to take a step into the future. I hope they will do; after all, if we did it in the remote heart of Sicily, why others can't?
What's different in your workflow after beginning to use Valentina? And how did it affect your business?
My workflow now it's the most advanced in Italy among small businesses of tailoring. Besides the time we save to make clothes, we also use less fabric due to digital layout (here comes Inkscape) and our know-how in high-end pattern construction led us to provide our files to a factory here in Sicily that works with a famous CAD software. For the future, we are thinking of launching a website to sell our digital patterns.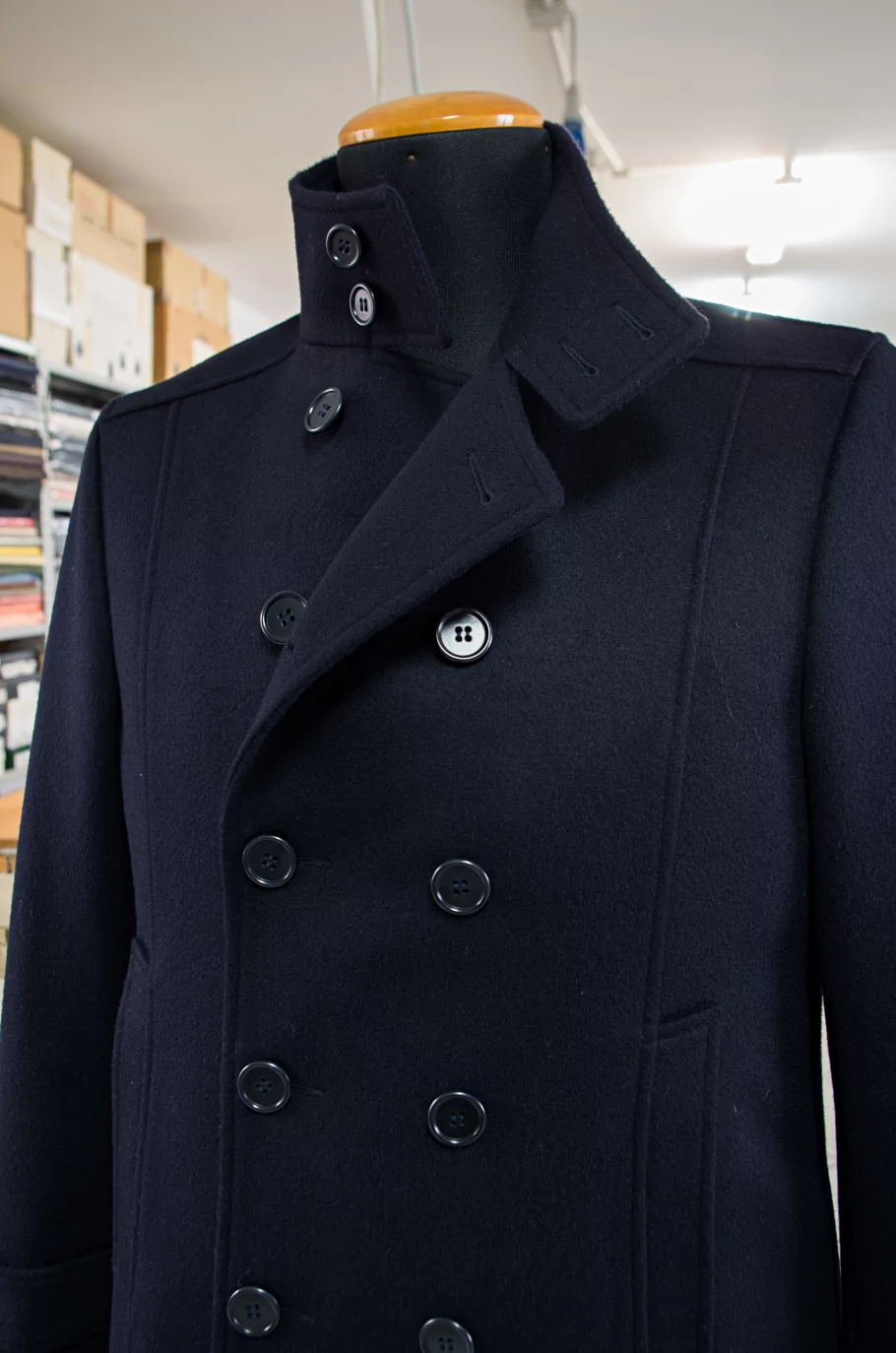 Do you mean you sell them designs for mass production?
Yes, factories often don't have a full-time internal pattern-maker. So, if they want to be ready for new requests made by independent designers, they might need customized patterns. We can do this, with Valentina, and that's saying something!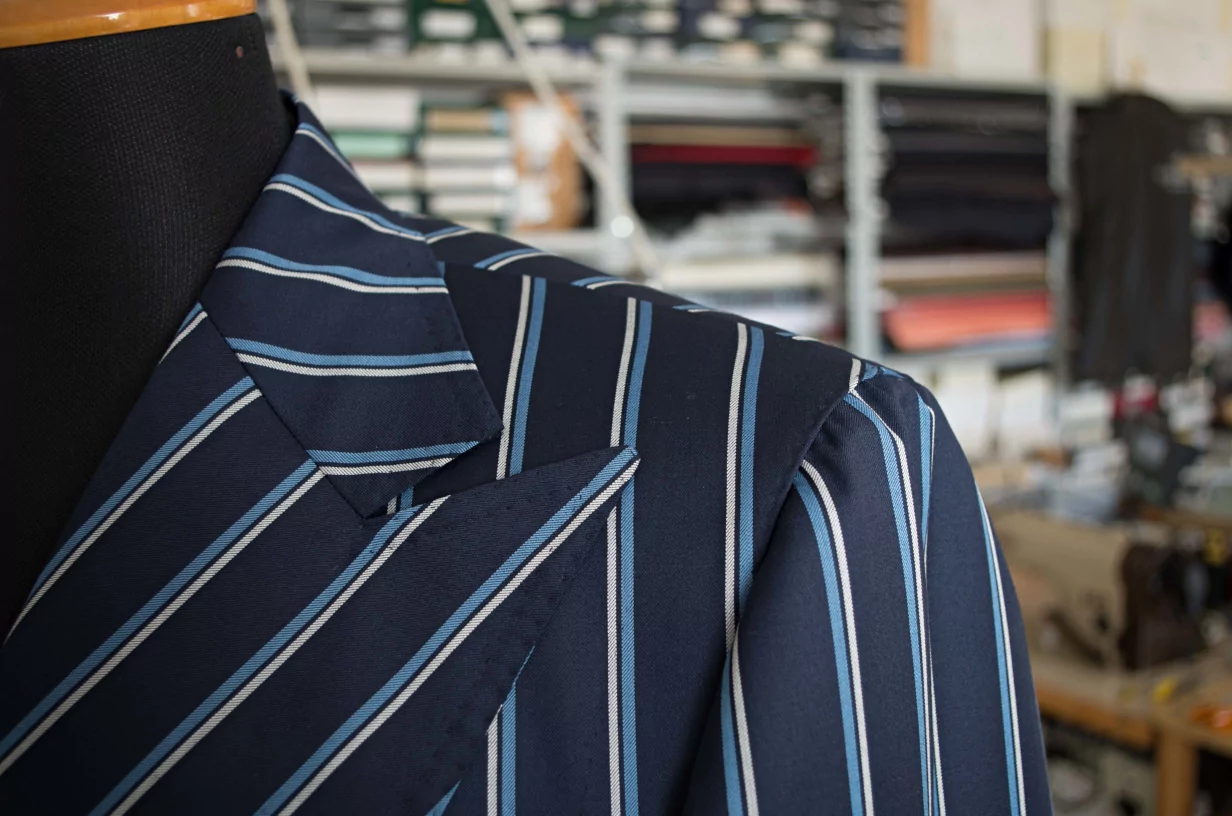 How do you exchange design files? DXF? SVG? PDF?
There are lot of ways to exchange files. Normally CAD programs work well with DXF-AAMA, but sometimes it could cause data loss; so a flat DXF becomes very useful.
How much are you involved with testing the software and providing feedback to Roman?
Roman allowed me save a lot of time in my pattern drafting: two years ago Valentina lacked simple features which had big significance for productivity. He has the mindset to follow the right feedback and knows how to implement new functions that work perfectly, so he heard my questions and trusted in me.
Since I use the software every day, I chat with Roman every week to exchange news, so I'm one of the few main contributors in the front row about the direction of Valentina.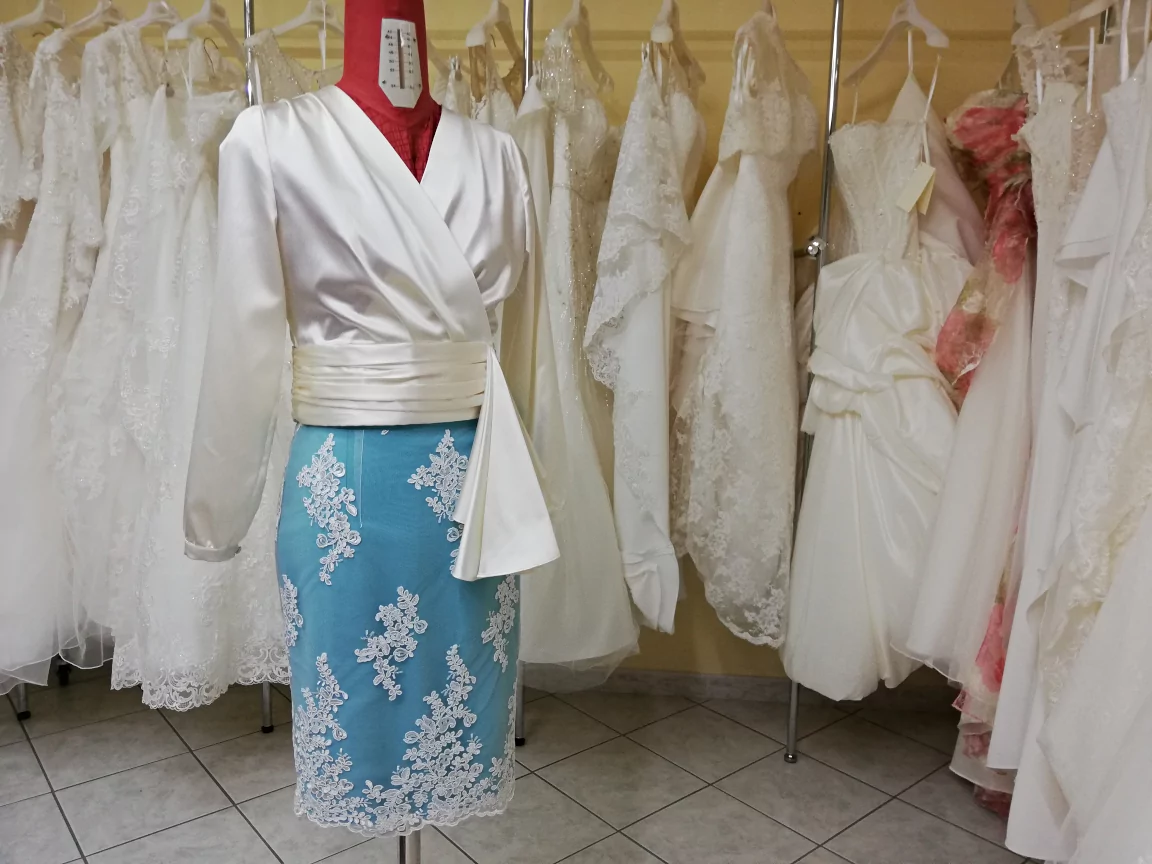 You also mentioned that you make some use of Inkscape for modifications and layouts. Could you please tell me more?
At time of writing, Valentina has a tool to automatically place pieces on a layout, with preferences given by user; and for someone who cuts pattern pieces individually to position them after on the fabric, it could be enough.
But since we use professional cut practice, we need to place manually every pattern pieces in the digital sheet area (wide and long as the fabric is) before printing, very close to one another and with a particular arrangement. This is still not possible with the software, so I do that with Inkscape. Valentina will soon be able to do that with a new bundled tool called Puzzle.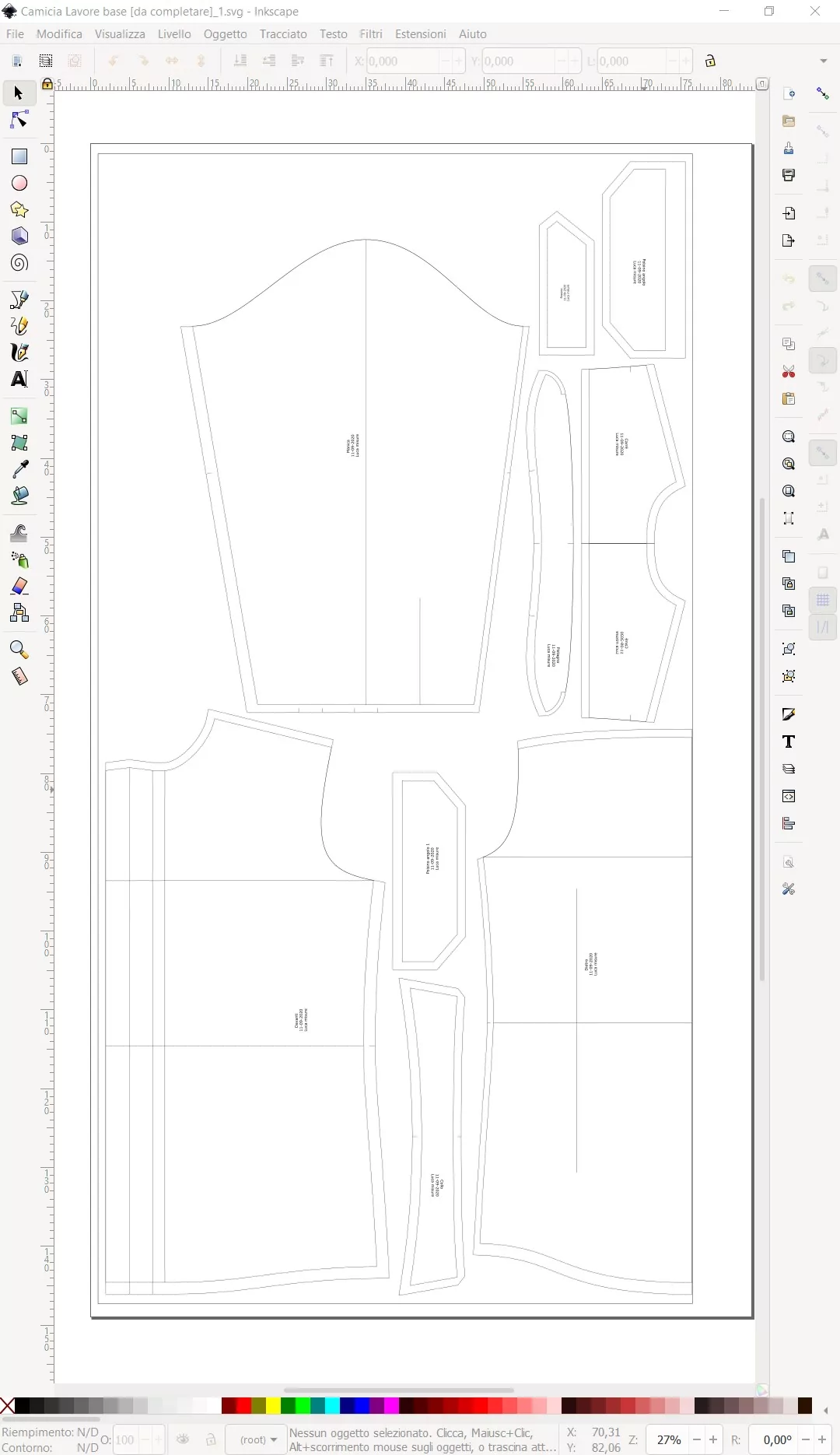 I can say that Inkscape is nearly as important for me as Valentina is. Sometimes I need to draft or correct parts of my patterns with Inkscape because I want to manipulate or merge them in a way that Valentina doesn't yet allow me to do. And I'm very happy to have these two outstanding applications for my work!
---
You can see more of the work Sartoria Giuseppe Lavore do in their Instagram account.