Weybec studio released a short open movie about a monkey that gains superpowers for no good reason at all.
The movie, that had been in the works for the past 6 months, was posted yesterday on YouTube, and all project data, as well as tutorials are now available for both Blender Cloud subscribers and people who'd rather buy a DVD.
All the work was done with just free/libre tools, namely, Blender and GIMP. The latter was used for just texturing; this is Monkaa's texture: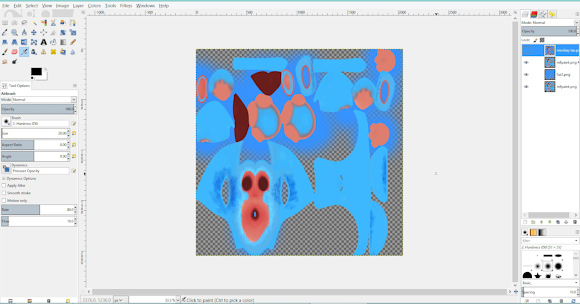 And here's the list of educational content you will get as well: - Fur animation tutorial - Procedural stone tutorial - Smoke tutorial - Eye tutorial - Electric bolt tutorial - Making of jungle environment
Weybec is a new Mumbai-based studio co-founded by Blender community's darling Pratik Solanka who's beyond many other things is know as art director on upcoming Blender-made feature film called 'Naughty 5' (see an insightful interview about the project posted at Animation Supplement).
There hasn't been much news about 'Naughty 5', so we asked Pratik, and here's what he replied:
Right now Vivify's production of the 'Naughty 5' movie is almost complete, and it's out for sound design and other non-production stuff. As of now we took a little break from Vivify and started Weybec, and at the moment we are working on next project's story line.
The work on Monkaa was directly sponsored by Blender Institute. For .blend files, textures, and other project data, as well as tutorials head over to Blender Cloud (subscription required) or Blender Foundation's e-shop.