Qtractor MIDI sequencer joins automation club
Rui Nuno Capela released a new version of free MIDI sequencer called Qtractor (Linux only) that finally has basic working support for automation.
If you are into composing music, you know that automation opens doors to really advanced use of any sequencer and/or DAW.
The way to add an automation curves to a track is to use Automation submenu for a track: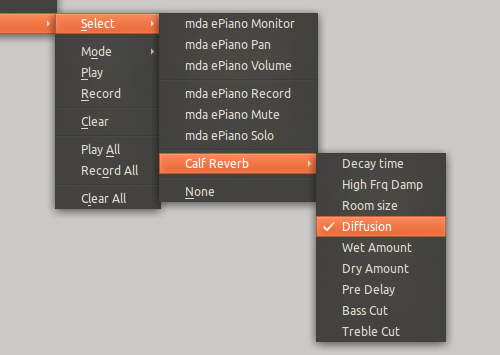 Actual editing always happens in main window, right above your tracks. To enable automation editing mode, press down this button:

To create new control points just click above track representation. The default mode of automation curves is Hold:

However you can switch to either Linear mode (Automation/Mode/Linear) or Spline mode (Automation/Mode/Spline):

As you can easily tell from the screenshots above, automation works for both audio and MIDI tracks. I haven't tried LADSPA effects, but both LV2 and native VST (yeas, there are some native free VST for Linux, as well as commercial ones) effects and instruments are supported. And being able to tweak Gain/Volume curve is really helpful.
The other important changes are:
Edit/Clip submenu has finally become top-level Clip menu;
zooming behavior is more reasonable now: centers on visible area or around mouse pointer if it's inside window;
use of new LV2 libraries stack has been fixed.
Any caveats? Well, yes. In my opinion, Hold mode isn't a very sensible default for automation. Unfortunately there doesn't seem to be a way to configure it yet, and there is no way to setup a shortcut for switching between automation modes. Yet this new version alone brings Qtractor feature-wise much closer to other leightwight DAWs such as Reaper.