darktable
Reviews
/
Photography
darktable 4.2
by Alexandre Prokoudine
New and updates modules, WebP and JPEG-XL support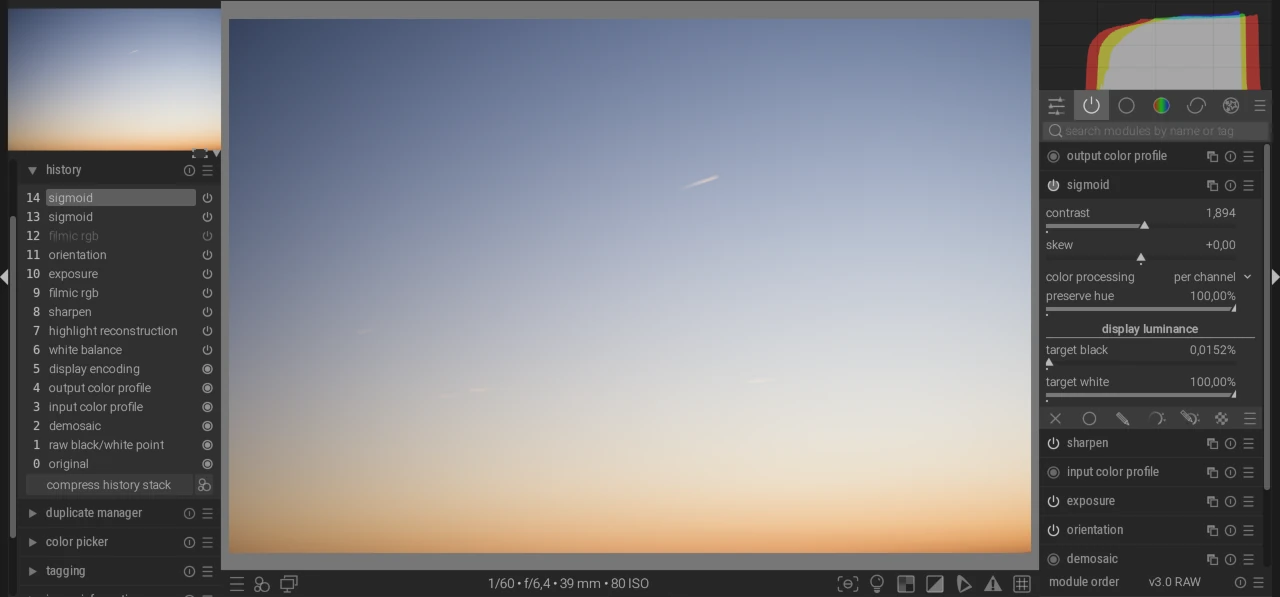 The latest release of darktable has several really good changes, here is a quick video overview with its text/pictures version below.
The new module called "sigmoid" does a very sensible scene-to-display tonemapping. There's nothing it does that you can't do with filmic, but if you feel like filmic is way over your head, you might want trying sigmoid. Good results, less controls to deal with.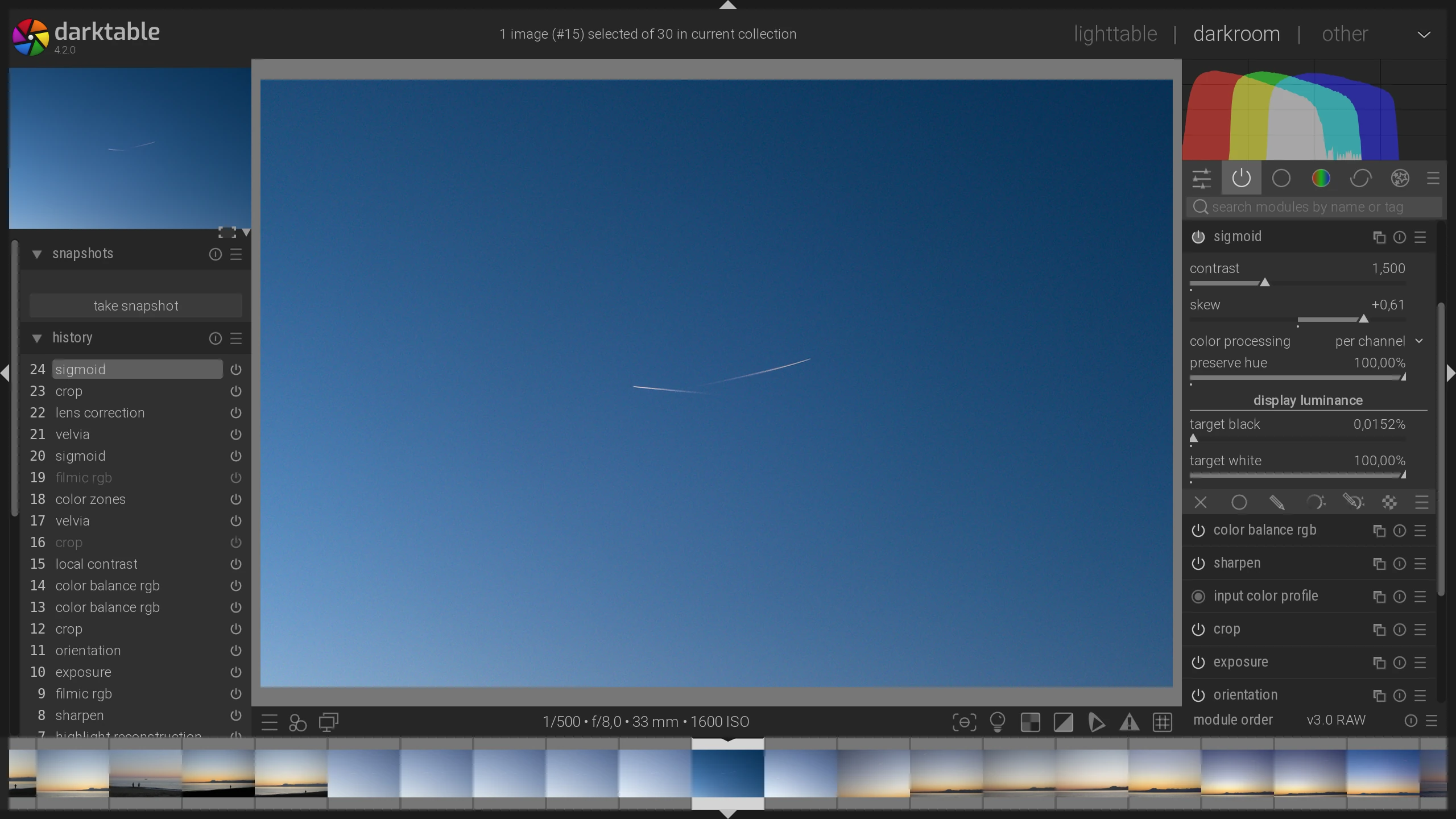 However, while the general idea of making good results easier achievable is great, you are essentially getting another way of doing the same. Which has become a bit of a user experience issue in darktable.
The highlights reconstruction module now has two new methods of restoring highlights: "inpaint opposed" and "segmentation based".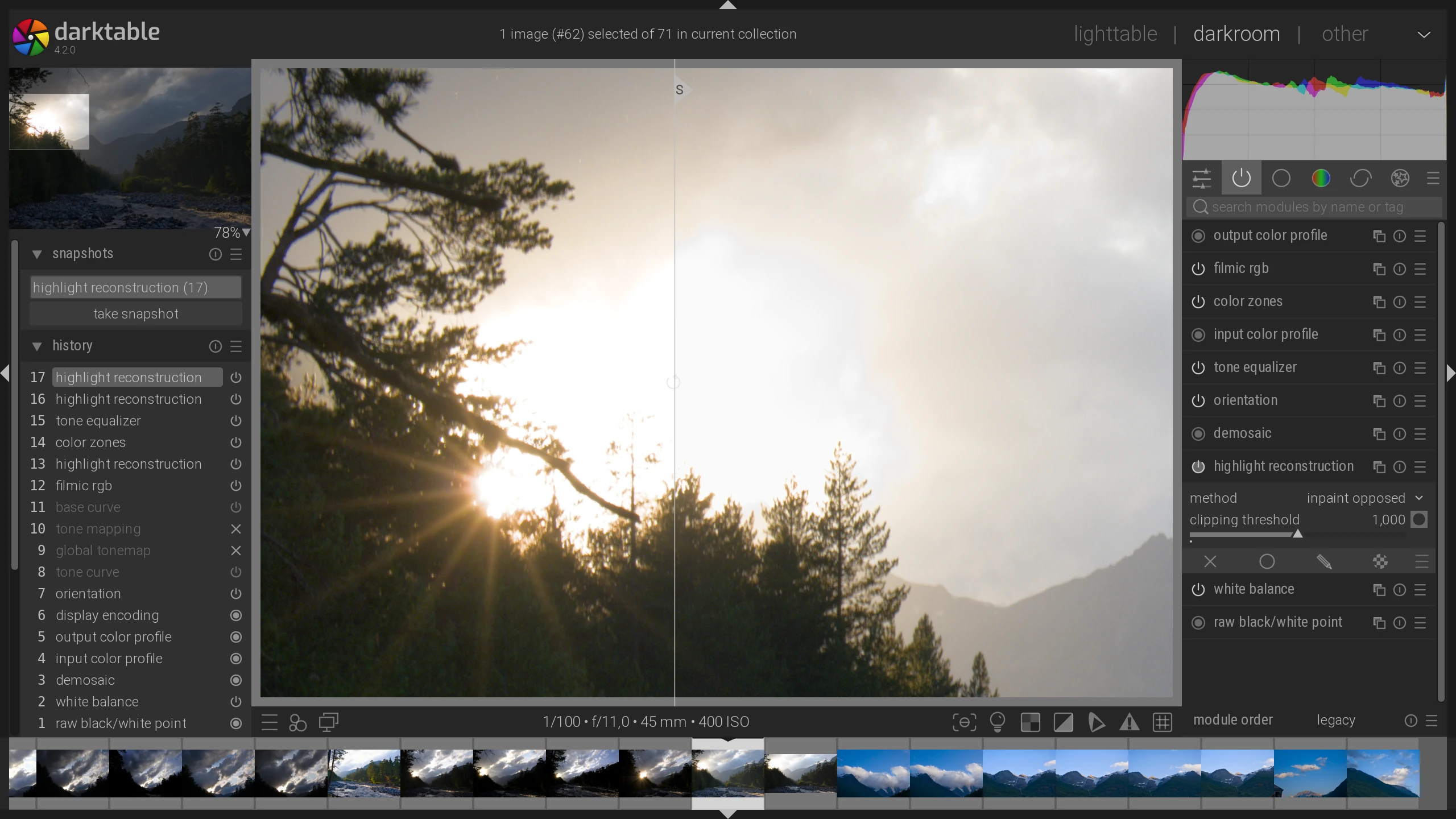 Both new methods either render more details compared to reconstructing in LCH or paint over the highlights more evenly (screenshot above). "Inpaint opposed" is slower than just clipping highlights, but it's reliable, works very well, and it is now the default method.
The "lens correction" module can now read and use embedded lens metadata in Exif to apply a correction.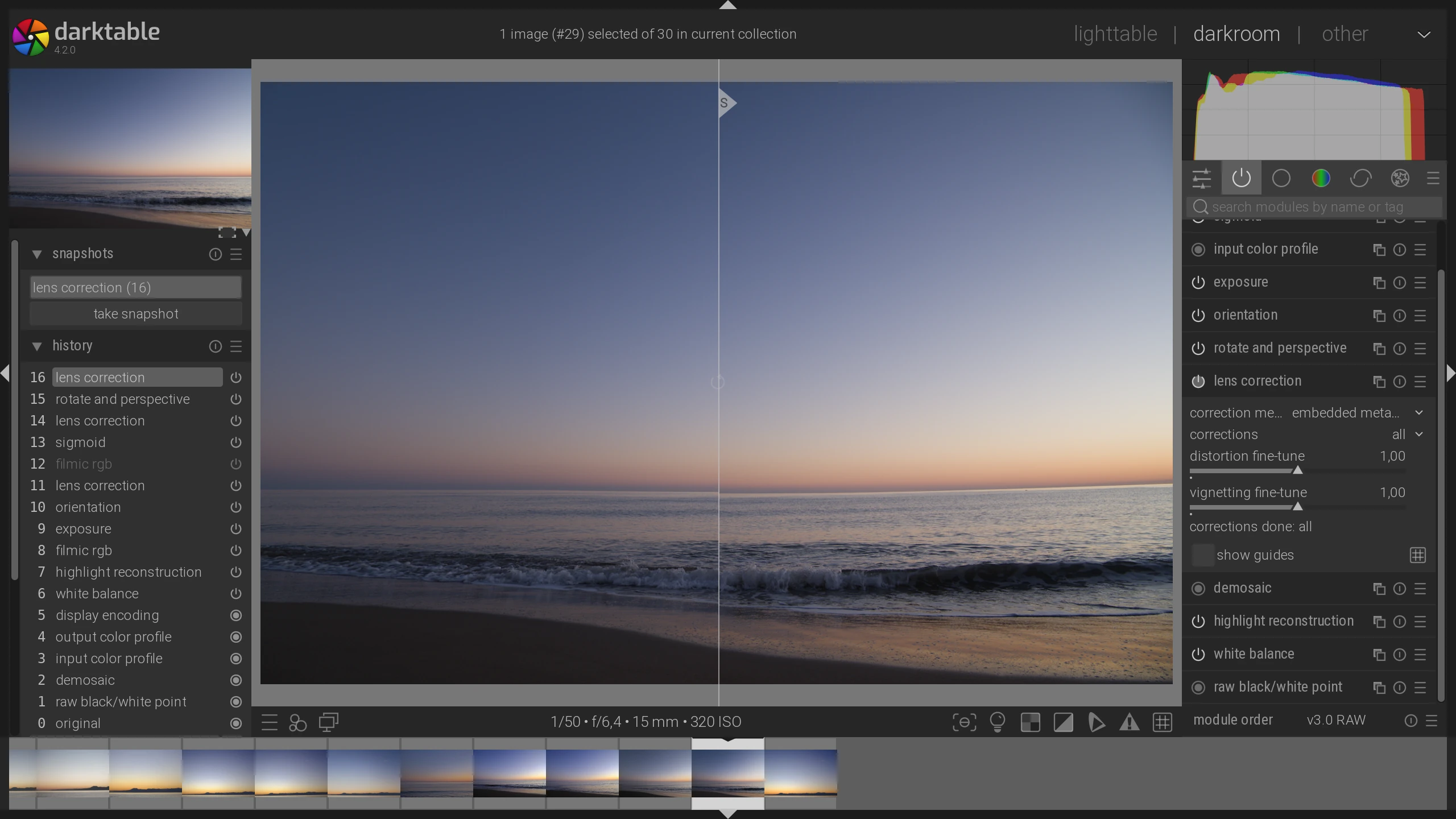 Not all camera manufacturers support this metadata. In my case of Fujifilm, the metadata is written and allows both correcting geometry distorsions and fix vignetting.
The snapshot module got a long overdue internal revamp. This is no longer a fixed screenshot of your edit, you can actually zoom in and pan around.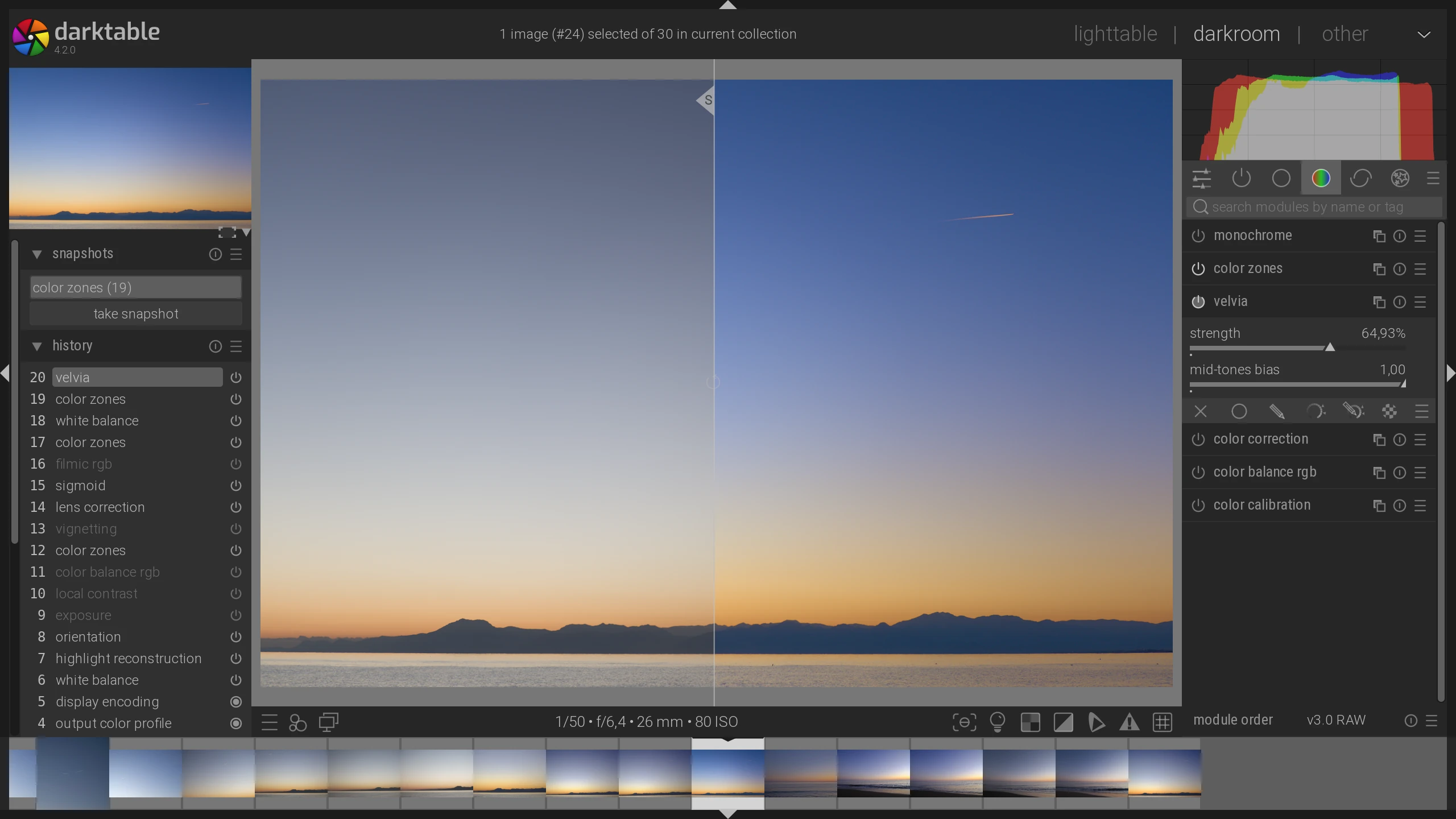 In the lighttable view, it is now possible to preview a user-generated or imported style of processing. You need to select a photo, then just place the mouse pointer over a style in the list, and this tooltip will appear.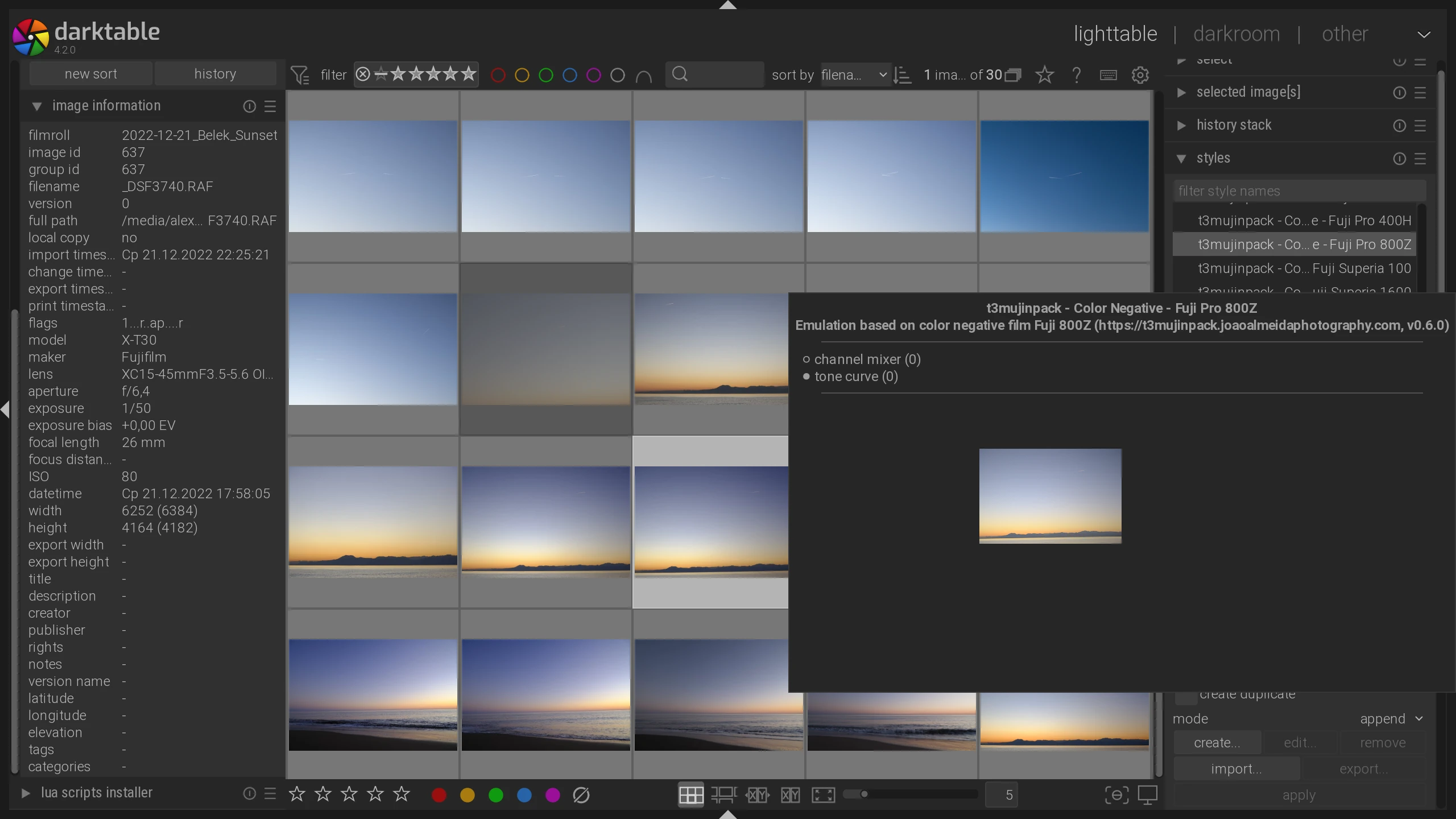 Unfortunately this feature is rather sluggish, it takes time to build the preview, at least on my laptop. And then as you can see it doesn't handle long style names very well.
There are many other changes:
Improved pixelpipe caching
Better UX in the slideshow view
Better UI of the range rating filter widget
WebP reading with ICC support
JPEG-XL reading and writing
Improved profile support for AVIF & EXR format
Better caching in the pixel processing pipeline
Better slideshow user experience
Base support for 34 newer cameras
Noise profiles for Fujifilm X-T5, Leica M (Typ 240), Nikon Z9, and a few more
Updated translations
Lots of bugfixes
You can find all that in the release notes.
Unfortunately, some of the usability issues have not been addressed yet, such as the duplicated filter functionality in the sidebar and in the top bar of the lighttable view. Other than that — very nice update!
---
Libre Arts is a reader-supported publication. If you appreciate the work I do, donations are once again possible. Patreon is for recurring donations, Buy Me a Coffee is for one-time donations.