New versions of GNOME Color Manager and colord released
It's been a while since we last covered release of a new version of GNOME Color Manager. This is mostly because all new development since last autumn was happening in GTK+3 based branch which wasn't what people would actively test until fairly recently.
Now that both GTK+3 and GNOME 3 are out, we are glad to say that GCM 3.1.1 is out, and the new development cycle is going to bring lots of awesomeness.
The reason why we are so excited may seem a whee bit strange, because it means a new dependency — a previously announced project called colord. Richard Hughes, who is principal developer of both GNOME Color Manager and colord, wrote a rather nice summary of colord that we encourage you to read. Essentially colord aims to streamline communication between Linux subsystems and apps that deal with color, input (e.g. scanners and DSLRs) and output (e.g. displays and printers).
New version of colord, v0.1.7, released same day, doesn't have that much new stuff to mention and mostly fixes things here and there, but GCM does have few new features: named color profile support, media whitepoint and color temperature data in gcm-picker utility, a metadata tab in gcm-viewer to display all extra information, and, what's even more interesting, a 3D gamut hull in the profile viewer.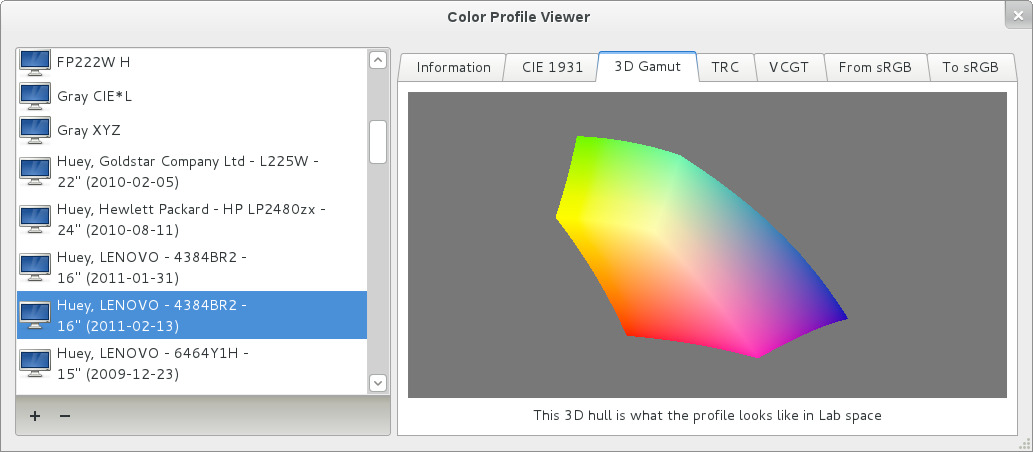 The 3D gamut viewer has some code originally coming from IccExamin project by Kai-Uwe Behrmann. However it's implemented using Clutter.
What's most interesting is that several subsystems like foomatic and Ghostscript have already been patched upstream to support colord. So by the time GNOME 3.2 is out (this autumn), all infrastructure will hopefully be in place to provide complete and transparent color managed workflow, out of box, in any Linux distribution.